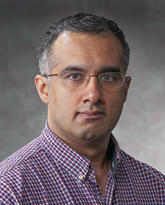 Rushi Vyas
Assistant Professor
Department of Electrical and Software Engineering
Contact information
Location
Information and Communications Technology Building :
ICT 348
Courses
Electromagnetic Fields and Applications (ENEL 475)
Introduction to Communications System and Networks (ENEL 471)
Embedded Software Design for Consumer Electronic Applications (ENEL 519.02)
Special Problems - Embedded Sensing and Communication (ENEL 619)
Research
Research activities
Ambient energy harvesting (RF and Vibration)
Ground-penetrating and pipeline communications
Electromagnetic sensing
RF/microwave and magnetic heating for remediation and heavy oil extraction
Graduate student employment:
We are looking to hire students at the PhD level with interests and experience in research activities stated above.
Interested students may submit their resumes, transcripts, previous publication list, TOEFL/IELTS/GRE scores to the email below. Interested PhD students may also include a one-page summary of their research interest(s) including a literature review.