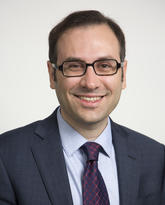 Saeid Saidi
Assistant Professor
Department of Civil Engineering
Postdoctoral Fellowship
Massachusetts Institute of Technology, 2019
PhD
University of Calgary, 2016
MSc
University of Calgary, 2010
BSc
Sharif University of Technology, 2008
Courses
Uncertainty in Civil Engineering (ENCI 504)
Preferred method of communication
Please send me an email
Research and teaching
Research areas
Intelligent and autonomous systems
Modelling, optimization and decision support
Transportation systems analysis
Big data analytics
Systems engineering
Public transportation planning and operations
Activities
Dr. Saidi's main research activities are on transportation network modeling, public transportation planning and operation, and big data analytics using mobility sensing data. He is working on different applications of data analytics in transportation systems to create actionable intelligence for cities and transportation authorities.
Biography
Dr. Saeid Saidi is an Assistant Professor in the Department of Civil Engineering at the University of Calgary. Prior to join the University of Calgary, he was a Postdoctoral Associate at the Institute for Data, Systems and Society (IDSS) at Massachusetts Institute of Technology (MIT) and a member of the MIT Transit Lab. He earned his PhD and MSc in civil engineering with transportation engineering and planning specialization from the University of Calgary. He received his bachelor degree in industrial and system engineering from the Sharif University of Technology.
He is a member of Rail Transit Systems Committee (AP065) at the Transportation Research Board of the National Academies and is a recipient of several awards including NSERC PDF, NSERC CGS, and Izaak Walton Killam Memorial Scholarship.
Publications
Saidi, S., Wilson, N. H.M., Koutsopoulos, H. N. and Zhao, J. (2019). Mesoscopic Modeling of Train Operations: Application to the MBTA Red Line. 2019 IEEE Intelligent Transportation Systems Conference (ITSC).
Wolofsky, G., Saidi, S., Attanucci, J., Salvucci, F. (2019). Modeling Rail Transit Dwell Time Using Automatically Collected Passenger Data. Transportation Research Board Annual Meeting 2019.
Saidi, S., Kattan, L., Jayasinghe, P., Hettiaratchi, J.P., and Taron, J. (2018). Integrated Infrastructure Systems – A Review. Journal of Sustainable Cities and Society, 36. pp 1-11.
Wang, L., Wirasinghe, S.C., Kattan, L., and Saidi, S., (2018) Optimization of Demand-Responsive Transit Systems Using Zonal Strategy. International journal of urban sciences, 22(3). pp 1226-5934.
Saidi, S., Wirasinghe, S.C., Kattan, L., and Esmaeilnejand, S. (2017). A Generalized Framework for Complex Urban Rail Transit Network Analysis. Transportmetrica A: Transport Science Journal, 13(10). pp 874-892.
Saidi, S., Wirasinghe, S.C., and Kattan, L. (2016). Long-Term Planning for Ring-Radial Urban Rail Transit Networks. Journal of Transportation Research Part B: Methodological, 86. pp 128-146.
Saidi, S., Ji, Y., Cheng, C., Guan, J., Jiang, S., Kattan, L., Du, Y. and Wirasinghe, S.C. (2016). Planning an Urban Ring Rail Transit Line: A Case Study of Shanghai, China. Transportation Research Record: Journal of the Transportation Research Board, 2540. pp 56-65.
Saidi, S., Wirasinghe, S.C., and Kattan, L. (2014). Rail Transit: Exploration with Emphasis on Networks with Ring Lines. Transportation Research Record: Journal of the Transportation Research Board, 2419. pp 23–32.
Kattan, L. and Saidi, S. (2013). Comparative Analysis of Probe Based Ramp Metering with Detector Based and Pretimed Ramp Metering. Journal of Advanced Transportation, 47(1). pp 61-78.
Saidi, S. and de Barros, A. (2013) Assessing Airport Passenger Screening Systems. Proceedings of 13th World Conference on Transportation Research.
L. Kattan, C. Harschnitz, M. Mousavi, A. Radmanesh, B. Far, and Saidi, S. (2012) Microsimulation Evaluation of the Potential Impacts of Vehicle-to-Vehicle Communication (V2V) in Disseminating Warning Information under High Incident Occurrence Conditions. International Journal of Intelligent Transportation Systems, 10. pp 137-147.
Saidi, S., Wirasinghe, S.C., and Kattan, L. (2012) A Review of Future Transit Plans for Calgary Metropolitan Region. Proceedings of the 9th International Transportation Specialty Conference, Canadian Society of Civil Engineering Conference.
Awards
Natural Sciences and Engineering Research Council of Canada (NSERC) Postdoctoral Fellowship, 2017
ASTech Award Finalist; Leaders of Tomorrow, 2015
Izaak Walton Killam Memorial Scholarship, 2013
Alexander Graham Bell Canada Scholarship (NSERC CGS), 2013
Schulich School of Engineering Teaching Assistant Excellence Award, 2013
Queen Elizabeth II Graduate Scholarship, 2012
University of Calgary Ruby Doctoral Scholarship, 2011