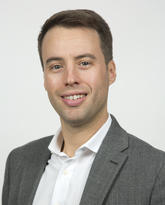 Sean McCoy
Assistant Professor
Department of Chemical and Petroleum Engineering
PhD - Engineering and Public Policy
Carnegie Mellon University, 2008
BASc - Environmental Engineering (Chemical)
University of Waterloo, 2003
Preferred method of communication
Please email me
Research
Research areas
Systems and life cycle analysis
Techno-economic analysis
Technology innovation
Greenhouse gas (GHG) mitigation
Carbon capture and storage
Carbon dioxide removal
Research activities
Sean's primary research interests are developing methods to support rapid and effective screening of related early-stage technologies, improving approaches used in scenario-based energy systems modeling, and incorporating the theory of technology innovation into into energy and environmental policymaking. His current work includes lifecycle assessment of carbon capture and storage (CCS) with biofuels, exploration of policy mechanisms to incentivise negative emissions technologies (NETs), and techno-economic assessment of direct air capture and carbon dioxide (CO2) conversion technologies.
Biography
Sean McCoy joined the Department of Chemical and Petroleum Engineering at the University of Calgary as an assistant professor in December 2018.
Prior to joining the University of Calgary, Sean was an analyst at Lawrence Livermore National Laboratory (LLNL), a US Department of Energy laboratory, and the International Energy Agency (IEA). At LLNL, he collaborated with research scientists to evaluate the economic feasibility and environmental benefits of early-stage concepts and the State of California to develop rules for CCS under the Low Carbon Fuel Standard (LCFS). While at the IEA, Sean collaborated both with IEA member and non-member governments to shape policies that advanced CCS technology. Sean was the author or a contributing author to three editions of IEA Energy Technology Perspectives (ETP), three editions of the IEA CCS Legal and Regulatory Review, the 2015 IEA Review of Canada's Energy Policy, and multiple IEA Insights Papers.
Sean maintains an adjunct faculty appointment in the Department of Engineering and Public Policy at Carnegie Mellon University. He is also the Editor-in-Chief of the International Journal of Greenhouse Gas Control (IJGGC), the leading CCS-focused journal. He is a member of the CSA Standards' Technical Committee that has developed a bi-national standard for geological storage and a contributor to ISO TC 265, which is developing international standards for CCS.
Sean received his PhD in Engineering and Public Policy from Carnegie Mellon in May 2008. His PhD dissertation was on "The Economics of CO2 Transport by Pipeline and Storage in Saline Aquifers and Oil Reservoirs." Prior to this, Sean received a bachelor's degree from the University of Waterloo in Environmental Engineering (Chemical Specialization).
Publications
Sanchez, D. L.; Johnson, N.; McCoy, S. T.; Turner, P. A.; Mach, K. J. Near-term deployment of carbon capture and sequestration from biorefineries in the United States, Proceedings of the National Academy of Science 2018, 115 (19), 4875–4880.
Sandalow, D.; Friedman, J.S.; McCormick, C.; McCoy, S.T. Direct Air Capture of Carbon Dioxide: ICEF Roadmap 2018; Innovation for Cool Earth Forum, 2018.
Greenblatt, J. B.; Brown, N. R.; Slaybaugh, R.; Wilks, T.; Stewart, E.; McCoy, S. T. The Future of Low-Carbon Electricity. Annual Review of Environment and Resources 2017, 42 (1), 289–316.
Sandalow, D.; Aines, R.; Friedman, J.S.; McCormick, C.; McCoy, S.T. Carbon Dioxide Utilization (CO2U): ICEF Roadmap 2.0; Innovation for Cool Earth Forum, 2017.
Dixon, T.; McCoy, S.T.; Havercroft, I. Legal and Regulatory developments on CCS. International Journal of Greenhouse Gas Control 2015, 40, 431–448.
Rubin, E. S.; Short, C.; Booras, G.; Davison, J.; Ekstrom, C.; Matuszewski, M.; McCoy S.T., A proposed methodology for CO2 capture and storage cost estimates. International Journal of Greenhouse Gas Control 2013, 17 (0), 488-503.
Burnard, K.; McCoy, S. T., Fossil Fuels and Carbon Capture and Storage. In Energy for Development: Resources, Technologies, Environment, Toth, F. L., Ed. Springer: Dordrecht, 2012.
Morgan, M.G.; McCoy, S.T.; Apt, J.; Dworkin, M.; Fischbeck, P.S.; Gerard, D.; Gregg, K.A.; Gresham, R.L.; Hagan, C.R.; Kreis, D.; Nordhaus, R.R.; Pitlick M.F.; Pollak, M.F.; Reiss, J.L.; Rubin, E.S.; Twaite, K.; Wilson, E.J., Carbon Capture and Sequestration: Removing the Legal and Regulatory Barriers. RFF Press: New York, 2012.
McCoy, S.T.; Rubin, E.S., An engineering-economic model of pipeline transport of CO2 with application to carbon capture and storage. International Journal of Greenhouse Gas Control 2008, 2 (2), 219-229.