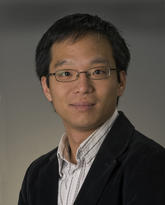 Steve Liang
Professor
Department of Geomatics Engineering
Rogers Internet of Things Chair
BSc, Surveying Engineering
National Cheng-Kung University, 1999
PhD, Earth and Space Science
York University, 2007
P.Eng.
Contact information
Location
Calgary Centre for Innovative Technology :
CCIT 363
Courses
Dr. Liang has taught the following courses:
ENGG 233 – Computing for Engineers
ENGO 351 – Introduction to Geospatial Information Systems
ENGO 551 – Special Topics in Geospatial Information Systems
ENGO 698 – Professional Development Seminar
ENGO 699.18 – Special Studies (GI Models and Management)
Preferred method of communication
I am always looking for excellent students at all levels with excellent skills and passions in changing the world with geospatial algorithms and programming.
Research and teaching
Research activities
Dr. Liang's goal is to disrupt the silos of the Internet of Things by creating, using, and implementing open and interoperable standards for device-cloud communications and cloud-cloud communications. He is currently the Standard Working Group Chair of the Open Geospatial Consortium SensorThings API. The OGC SensorThings API is an OGC candidate standard for providing an open and unified way to interconnect IoT devices, data, and applications over the Web. The SensorThings API is an open standard, builds on Web protocols and applies an easy-to-use REST-like style. The result is to provide a uniform way to expose the full potential of the Internet of Things.
Dr. Liang's general research area is Geospatial Information and Communication Technology (GeoICT). Currently, his specific research interests lie at the intersection of geo-sensor networks, distributed computing and cyberinfrastructure, specifically in the area of the Sensor Web, which is a geospatial information infrastructure connecting heterogeneous sensor networks.
Biography
Dr. Steve Liang completed a bachelor of science in Surveying Engineering at National Cheng-Kung University, Taiwan in 1999, and earned his doctorate in Earth Space Science at York University, Toronto in 2007. During his doctorate studies, he contributed to the development of one of the first virtual globe systems in the world, called GlobeView. GlobeView was later commercialized by GeoTango Corp., and subsequently acquired by Microsoft in 2005.
Dr. Liang is currently an associate professor at the University of Calgary and director of the GeoSensorWeb Laboratory. He is also the founder and CEO of SensorUp Inc, a Calgary startup company that offers a Data Exchange Platform based on International Open Standards for the Internet of Things. In 2013, he was chosen one of Calgary's Top 40 Under 40 by Avenue Magazine. Dr. Liang has been an invited speaker at universities and industries in 11 countries, and held the AITF-Microsoft Industry Research Chair on the Open Sensor Web from 2011 to 2014.
Publications
Selected Publications:
1. A Bröring, J Echterhoff, S Jirka, I Simonis, T Everding, C Stasch, S Liang, R Lemmens. (2011) New generation sensor web enablement. Sensors 11 (3), 2652-2699.
2. M Gould, M Craglia, MF Goodchild, A Annoni, G Camara, W Kuhn, D Mark, I Masser, D Maguire, S Liang, E Parsons. (2008) Next-generation digital earth: A position paper from the vespucci initiative for the advancement of geographic information science. Joint Research Centre of the European Commission.
3. SHL Liang, A Croitoru, CV Tao. (2005) A distributed geospatial infrastructure for Sensor Web. Computers & Geosciences 31 (2), 221-231.
4. Bakillah, M., R. - Y. Li, and S. H. L. Liang. (2015) Geo-located community detection in Twitter with enhanced fast-greedy optimization of modularity: the case study of typhoon Haiyan. International Journal of Geographical Information Science, pp. 22, 09/2014, 2015.
5. Little, K. E., M. Hayashi, and S. H. L. Liang. (2015) Community-based groundwater monitoring network using a citizen-science approach. Groundwater.
6. Jazayeri, M., C. - Y. Huang, and S. H. L. Liang. 2015) Implementation and Evaluation of Four Interoperable Open Standards for the Internet of Things. Sensors, vol. 15, issue 9, pp. 30.
7. Phillips, A., N. K. Newlands, S. H. L. Liang, and B. H. Ellert. (2014) Integrated Sensing of Soil Moisture at the Field-scale: Measuring, Modeling and Sharing for Improved Agricultural Decision Support. Computers and Electronics in Agriculture, vol. 107, pp. 16.
8. Bakillah, M., J. Lauer, S. H. L. Liang, A. Zipf, J. J. Arsanjani, A. Mobasheri, and L. Loos. (2014) Exploiting Big VGI to Improve Routing and Navigation Services. Big Data: Techniques and Technologies in Geoinformatics: CRC Press, pp. 177.
9. Bakillah, M., S. H. L. Liang, A.Mobasheri, J. J. Arsanjani, and A. Zipf. (2014) Fine resolution population mapping using OpenStreetMap points-of-interest. International Journal of Geographic Information Science.
10. Liang, S. H. L., and C. - Y. Huang. (2014) Geospatial Cyberinfrastructure for Addressing the Big Data Challenges on the Worldwide Sensor Web. Big Data: Techniques and Technologies in Geoinformatics: Taylor & Francis.