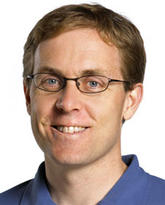 Steven Boyd
Professor, Joint Appointment
Cumming School of Medicine
Department of Mechanical and Manufacturing Engineering
Research
Research activities
Our research focus is on understanding mechanisms and improving therapies for bone degenerative conditions, including osteoporosis and osteoarthritis. We study the role of bone mineralization and bone microarchitectural development contributing to bone quality and providing bone strength.
Our research group uses state-of-the-art medical imaging technologies to provide an understanding of the mechanisms related to bone loss, often by performing longitudinal analyses. In addition to our research goals, we have developed several custom analysis tools and techniques. These tools are applied in our preclinical (animal) and clinical laboratories, enabling our research group to draw strength from the controlled settings of our preclinical studies and translate that knowledge effectively into a clinical setting.
Biography
Dr. Steve Boyd holds a PhD in Biomedical Engineering (Mechancial Engineering). He is a Professor at the Cumming School of Medicine in the Department of Radiology at the University of Calgary, and holds a joint position at the Schulich School of Engineering and Faculty of Kinesiology. He holds a Senior Scholar position from Alberta Innovates – Health Solutions. He is the Bob and Nola Rintoul Chair in Bone and Joint Research and the McCaig Chair in Bone and Joint Health.
In 2016, he was appointed the Director of the McCaig Institute for Bone and Joint Health. The focal point for his research is in the Bone Imaging Laboratory, established in 2004. It is comprised of a number of trainees and research staff and an array of micro-computed tomography (µCT) imaging equipment and supporting computing facilities. The research projects focus on using novel imaging technologies and analysis methods to develop methods for better diagnosis and monitoring of diseases such as osteoporosis and osteoarthritis. His work is funded by the Alberta Innovates – Health Solutions (AIHS), the Canadian Institutes for Health Research (CIHR), the Natural Sciences and Engineering Research Council (NSERC) of Canada and other sources.
Publications
Current publications list at PubMed