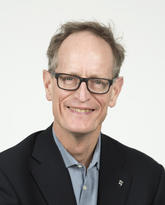 Steven Bryant
Professor
Department of Chemical and Petroleum Engineering
CERC Chair in Materials Engineering
University of Calgary
PhD, Chemical Engineering
The University of Texas at Austin
BSc, Chemical Engineering
Vanderbilt University
Contact information
Location
Energy, Environment, Experiential Learning Building :
EEEL467E
Research and teaching
Research activities
The Canada Excellence Research Chair (CERC) will accelerate transformation of the industry's approach to in situ extraction of energy from the oil sands. Nanomaterials and emerging capabilities in mesoscale science offer an extraordinary opportunity to address a wide spectrum of oil sands challenges. Although inspired by industry application, the research is also designed to produce significant advances in basic science. This will result in bigger picture uses beyond the energy industry, much as biomedical nanomaterials advances are now being explored for oil recovery applications.
The vision of the CERC in Materials Engineering for Unconventional Oil Reservoirs is to bridge the gap between the current technological status of the oil sands industry and where it needs to be for a sustainable, globally competitive future. He and his colleagues will offer innovative solutions to the ever-growing energy demands of society while reducing our environmental footprint by current extraction platforms. To achieve these goals, he will lead and coordinate the cross-disciplines of nanotechnology and materials science research with an integrated team of researchers from across campus including chemical and petroleum engineering, geoscience, chemistry and geomicrobiology.
Biography
Dr. Bryant is the university's first Canada Excellence Research Chair (CERC) and will lead the exploration for new and sustainable ways to develop unconventional oil reservoirs by taking advantage of advances in materials science.
Dr. Bryant has led the way in the fields of digital petrophysics and nanoparticles for engineering applications, and has made some of the most significant advances in the past 20 years in porous media modelling, reactive transport theory and CO2 sequestration. Dr. Bryant spent 13 years in industry, from 1986 to 1999, and has been in the world of academia since 1994, most recently at the University of Texas at Austin. He has also consulted for various companies between 2004 and 2012. He has been published 118 times in refereed journal publications, made 158 conference presentations and has had 199 conference proceedings published. Over his career, he has led major research initiatives involving industry partnership and trained over 90 graduate students and postdoctoral fellows who have found positions in several of the largest energy companies and national laboratories.
Dr. Bryant is a member of the Society of Petroleum Engineers, the American Chemical Society and the American Geophysical Union. He has been recognized and awarded numerous times, most recently with the Bank of America Centennial Professorship in Petroleum Engineering. He frequently conducts industrial and professional society lectures in geological storage of CO2 and on fundamentals of porous media.
Cross Appointments and Affiliations:
Adjunct Professor, University of Texas at Austin
Norwegian University of Science and Technology, Norway
University of Bergen, Norway
Technion, Israel
Imperial College, UK
University of Texas at Austin
McGill University
Publications
Selected Publications:
1. Yu, H., He, Y., Li, P., Li, S., Zhang, T., Rodriguez-Pin, E., Du, S., Wang, C., Chen, S., Bielawski, C.W., Bryant, S.L., and Huh, C. "Flow enhancement of water-based nanoparticle dispersion through microscale sedimentary rocks." Scientific Reports 5: 8702, pp.1-8. 2015.
2. Worthen, A., Foster, L., Dong, J., Bollinger, J., Peterman, A., Pastora, L., Bryant, S., Truskett, T., Bielawski, C., Johnston, K. "Synergistic Formation and Stabilization of Oil-in-Water Emulsions by a Weakly-Interacting Mixture of Zwitterionic Surfactant and Silica Nanoparticles". Langmuir 30: 984-994, 2014.
3. Bhandari, A.R., Flemings, P.B., Polito, P.J., Cronin, M.B., and Bryant, S.L. "Anisotropy and Stress Dependence of Permeability in the Barnett Shale". Transp Porous Med 108 (482): pp. 393-411. 2015.
4. Huerta, N.J., Hesse, M.A., Bryant, S.L., Strazisar, B.R., and Lopano, C. "Reactive transport of CO2-saturated water in a cement fracture: Application to wellbore leakage during geologic CO2 storage". International Journal of Greenhouse Gas Control. 2015.
5. You, K., Kneafsey, T.J., Flemings, P.B., Polito, P., and Bryant, S.L. "Salinity-buffered methane hydrate formation and dissociation in gas-rich systems", Journal of Geophysical Research: Solid Earth 120 (2): pp. 643-661. 2015.
6. Meckel, T.A., Bryant, S.L., Ganesh, P. "Characterization and prediction of CO2 saturation resulting from modeling buoyant fluid migration in 2D heterogeneous geologic fabrics". International Journal of Greenhouse Gas Control 34: pp. 85-96. 2015.
7. Tao, Q., and Bryant, S.L. "Optimizing carbon sequestration with the capacitance/resistance model", SPE Journal, pp. 598-607, 2015.
8. Rahmani, A., Huh, C. and Bryant, S. "Crosswell Magnetic Sensing of Superparamagnetic Nanoparticles for Subsurface Applications". Society of Petroleum Engineers Journal. SPE-166140-PA, 2014.
9. Sakhaee-pour, A. and Bryant, S. "Effect of pore structure on the producibility of tight gas sandstones". AAPG Bulletin 98(4) pp. 663-694. 2014.
10. Yu, H., Yoon, K.Y., Neilson, B.M., Bagaria, H.G., Worthen, A.J., Lee, J.H., Cheng, V., Bielawski, C.W., Johnston, K.P., Bryant, S.L., and Huh, C., "Transport and Retention of Aqueous Dispersion of Superparamagnetic Nanoparticles in Sandstone". J. Petrol. Sci. Eng. 116:115-123, 2014.
Awards
Selected Awards:
Canada Excellence Research Chair (CERC)
Bank of America Centennial Professor, UT-Austin
J.H. Herring Centennial Professorship in Petroleum Engineering, UT-Austin
George H. Fancher Centennial Teaching Fellowship in Petroleum Engineering, UT-Austin
Distinguished Lecturer, Society of Petroleum Engineers