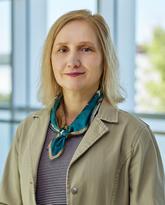 Svetlana Yanushkevich
Associate Dean, Equity, Diversity & Inclusion
Schulich School of Engineering
Associate Dean, Research (Faculty Research & Scholarship)
Schulich School of Engineering
Professor
Department of Electrical and Software Engineering
Dr. Habilitated - Information Sciences
Technical University of Warsaw, 1999
BSc, MSc, PhD - Computer Engineering
Belarussian State University of Informatics and Radioelectronics, 1992
Contact information
Location
Information and Communications Technology Building :
ICT 343
Office hours
Monday to Friday: 9 to 11 a.m.
Preferred method of communication
Please use email.
Research
Research areas
Biometric technologies
Data analytics
Pattern recognition
Machine reasoning
Probabilistics decision-making
Wearables
Digital design
Multi-valued logic systems
Research activities
Biometric technologies, digital design, computational intelligence, machine reasoning
Biography
Dr. Yanushkevich directs the Biometric Technologies Laboratory, the only research facility dedicated to biometric system design in Canada. She is a Chair of the Biometric Taskforce in the IEEE Computational Intelligence Society. With her team, she is developing novel decision support and risk assessment strategies based on machine reasoning, with applications to biometric-enabled access control (risk assessment of misidentification) and healthcare monitoring systems (gait abnormalities detection, action/activity recognition, face attribute analysis).
Publications
S. Eastwood, and S. Yanushkevich, Risk Assessment in Authentication Machines, In: R. Abielmona, et. al. Eds, Recent Advances in Comput. Intell. in Defense and Security, Springer, 2016, pp 391-420
K. Lai, S. Yanushkevich, et.al, Bridging the Gap Between Forensics and Biometric-Enabled Watchlists for e-Borders, IEEE Comput. Intell. Magazine, vol. 12, no. 1, 2017, pp. 17--28
K. Lai, S. Yanushkevich, et al., Mass Evidence Accumulation and Traveler Risk Scoring Engine in e-Border Infrastructure, IEEE Trans. Intell. Transp. Syst., vol. 19, no. 10, 2018, pp. 3271--3281
W. A. Shier, S.N. Yanushkevich, Pain Recognition and Intensity Classification Using Facial Expressions, IEEE Int Joint Conference on Neural Networks (IJCNN), WCCI 2016, Vancouver, 2016
Awards
2018
GREAT Supervisor Award, Faculty of Graduate Studies
2017
Service Award, Schulich School of Engineering