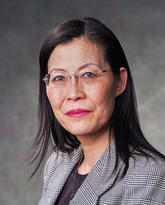 Yaoping Hu
Professor
Department of Electrical and Software Engineering
BSc
Xi'an Jiaotong University, CHINA
MSc
Xi'an Jiaotong University, CHINA
PhD
University of Western Ontario, CANADA
Contact information
Location
Information and Communications Technology Building :
ICT 543
Preferred method of communication
Dr. Hu has open positions for PhD and MSc studies in Human-Computer Interaction within Virtual Environments. For more information, visit her website.
Research
Research areas
Processing and visualizing complex and massive 3D/4D data
Multi-sensory integration for human-computer interaction
Modelling cognitive-ergonomic interactions in virtual environments
Research activities
Dr. Hu's main research area is in human-computer interaction within virtual environments. The goal of the research is to suggest principles and methods of intuitive human interactions with complex and massive data for information analysis and decision making.
Biography
Dr. Yaoping Hu is a leading expert in human-computer interaction within virtual environments – advent computer-based virtual reality (VR) technologies. Her research activities embrace processing complex and massive 3D/4D data; 3D visualization and haptics; and multi-user collaborative interaction. The activities have generated methodologies/knowledge essential for visual and interactive analytics of complex data; and created VR systems for petroleum, civil, and medical applications.
Dr. Hu's scientific leadership and acumen are exemplified by secured multiple major grants (as Lead Investigator) including NSERC-SPG and CFI-LOF; numerous transaction/journal publications by prestigious publishers such as IEEE Press and MIT Press; best paper/poster awards at flagship IEEE international conferences; and filed software patents. She serves as Vice-Chair for Finance of the IEEE RAS Technical Committee on Haptics and member of the IEEE SMC Technical Committee on Human-Computer Interaction. Dr. Hu is a registered Professional Engineer with APEGA.
Publications
Selected Publications:
Erfanian, A. & Hu, Y. (Best Poster Award, 2015), Conflict resolution models on usefulness within multi-user collaborative virtual environments, Proc. IEEE 3DUI, 147-148, Arles, France, March.
Ferrari, S. & Hu, Y. (2015), Multi-domain correlation for vortex extraction in fluid flow fields, Proc. IEEE SMC, 917-922, Hong Kong, China, October.
Wei, Q. & Hu, Y. (2014), A hybrid approach to segmentation of diseased lung lobes, IEEE J. Biomedical & Health Informatics, 18(5): 1696-1706.
Widmer, A. & Hu, Y. (2010), Effects of alignment between a haptic device and visual display on the perception of object softness, IEEE Trans. Systems, Man and Cybernetics – Part A: Systems and Humans, 40: 1146-1155.
Wei, Q., Hu, Y., Gelfand, G., & MacGregor, J.H., (2009), Segmentation of lung lobes in high-resolution isotropic CT images, IEEE Trans. Biomedical Engineering, 56: 1383-1393
Awards
Best Poster Award, 2015
Poitou-Charentes Visiting Scholar, 2012