Environmental Engineering
Master of Engineering pathways
The calendar states that students will be considered fulltime if they enroll in 18 units or more per annual registration. It also states that the minimum program requirements for course-based Master of Engineering (MEng) is 30 units, with the typical completion time of two years for full-time students.
As such, students enrolled in the MEng graduate program are considered fulltime if they are demonstrating expected program progression with credits passed and in-progress corresponding with typical completion time. MEng recommended pathways have been designed to meet the definition of fulltime status. Students opting to follow the pathway specific to their program and specialization are automatically considered fulltime. Courses listed in each pathway have been carefully selected to ensure seat availability and no scheduling conflicts.
MEng students continue to have the opportunity to select courses based on individual interests and may choose to define a study plan unique to them as an alternative to the recommended pathway. It is recommended that these students complete a minimum of 18 credits in Year 1 with the balance of credit requirements distributed over Year 2 to ensure expected program progression corresponding with typical completion time. Please be aware that courses outside of the recommended pathway are subject to availability, and may not permit self-registration.
Environmental Engineering without Specialization
Eligible courses
A list of the graduate courses offered each term by the Centre for Environmental Engineering Research and Education (CEERE) that can be used for credit towards an MEng degree in Environmental Engineering without specialization. Students must take TEN courses in total, as per the following. New students should refer to the Graduate Calendar for regulations regarding program/course requirements.
1 Students who are deemed not to have adequate environmental engineering background will be required to take Environmental Engineering 603. The decision will be made by CEERE as part of the admissions process 2 Students not required to take ENEN 603 will choose an additional course from either Group B or C instead
Shown below are the courses recommended by Centre for Environmental Engineering Research and Education (CEERE) to complete an MEng in Environmental Engineering degree within either a (i) 12 month or (ii) 24 month period.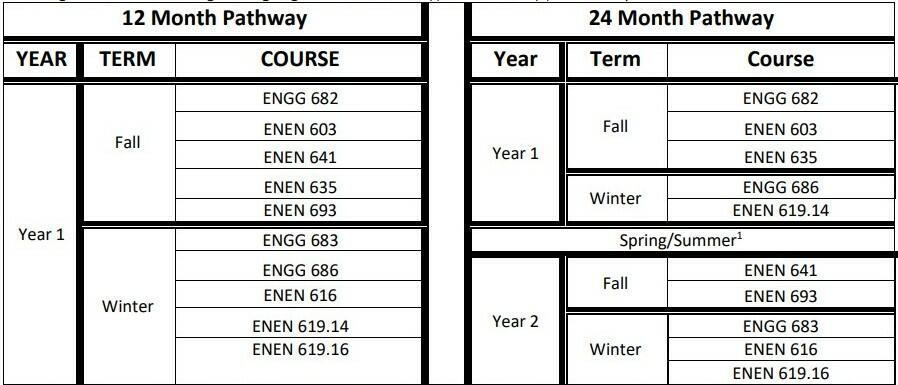 1 The Faculty of Graduate Studies offers an Internship option to help you plan and prepare for your career after graduation; to determine eligibility, funding and how to prepare to start an Internship, visit the Transformative Talent Internship page to learn more about it