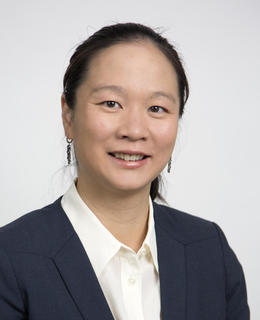 Dr. Joanna Wong, Dr.sc.ETH
Background
Credentials
P.Eng, APEGA,
Educational Background
BASc Engineering Science - Nanoengineering, University of Toronto, 2005
Dr.sc.ETH Mechanical and Process Engineering, Swiss Federal Institute of Technology (ETH), 2011
MSc Microelectromechanical Systems (MEMS), Ecole Superieure d'Ingenieurs en Electronique et Electrotechnique, 2007
MSc Microelectromechanical Systems (MEMS), Nanyang Technological University, 2007
Biography
Joanna Wong has been an assistant professor in the Department of Mechanical and Manufacturing Engineering at the University of Calgary since July 2017.
Her research focuses on developing materials and cost-effective processes for specific engineering applications. In the past, this has included fibre-reinforced thermoplastic composites for automotive applications, superhydrophobic and omniphonic coatings for water management, silica aerogels for building insulation, ferroelectrets for sensors and actuators, sputtering processes for semiconductor devices, and molecular storage devices. Currently, her research is on developing different manufacturing processes for fibre-reinforced thermoplastic composites such as additive manufacturing, pultrusion, filament winding, and stamp forming.
Research
Areas of Research
Materials
Advanced materials
Composite materials
Nanomaterials
Materials engineering
Biologically sourced materials
Smart materials
Multifunctional materials
Advanced manufacturing
Additive manufacturing
Composite processing
Clean technology
Participation in university strategic initiatives
Courses
| Course number | Course title | Semester |
| --- | --- | --- |
| ENME 421 | Materials I | Winter 2022 |
| ENMF 619.03 | Spec Problems Manufact Engg | Fall 2021 |
Publications
Thermoplastic composite materials for high voltage insulator applications.

Shelly Arreguin; Frank Schmuck; Paolo Ermanni; Max Volk; Joanna Wong; Christiane Baer. (2019)

A scalable process for making hybrid bicomponent fibers for the efficient manufacturing of thermoplastic composites.

Joanna Wong; Christoph Schneeberger; Nicole Aegerter; Paolo Ermanni; Shelly Arreguin. 131-134. (2018)

Optimizing the Thermoplastic Welding Propertiesin an FRPC Additive Manufacturing Process.

Martin Eichenhofer; Paolo Ermanni; Joanna Wong; Shelly Arreguin. 48 - 52. (2018)

Empirical optimization of kiss roll coating for high-speed bicomponent fibre production.

Nicole Aegerter; Paolo Ermanni; Joanna Wong; Christoph Schneeberger. (2017)

Manufacturing of Hybrid Bicomponent Fibers by Kiss-Roll Coating.

Paolo Ermanni; Nicole Aegerter; Joanna Wong; Christoph Schneeberger. (2017)

A method for dispersing particle fillers in thermoplastic composites using commingled yarns.

Paolo Ermanni; Nadine Hertaeg; Joanna Wong. (2017)

Experimental Investigation of Processing Parameters on Porosity in Continuous Lattice Fabrication.

Martin Eichenhofer; Joanna Wong; Paolo Ermanni. (2017)

The development of particle-stabilized polymer foams for potential passive and active damping applications.

Ludwig J Gauckler; Joanna Wong; Stephan Busato; Paolo Ermanni; Elena Tervoort; Andre R Studart; Urs T Gonzenbach. (2008)

Bicomponent polymer/glass Fibres for stamp forming.

Joanna Wong; Christoph Schneeberger; Paolo Ermanni. (2016)

Manufacturing of Bicomponent Fibres for Thermoplastic Composites: A Feasibility Study.

Joanna Wong; Christoph Schneeberger; Paolo Ermanni. (2016)

The characterization of porous materials from particle-stabilized liquid foams as piezoelectric space-charge electrets.

Paolo Ermanni; Elena Tervoort; Stephan Busato; Urs Gonzenbach; Ludwig Gauckler; Joanna Wong; Andre Studart. (2009)

Bicomponent Fibres for Thermoplastic Composites: Concept and Manufacturing.

Christoph Schneeberger; Paolo Ermanni; Joanna Wong. (2016)

Piezoelectric Polymeric Electrets from PVDF Particle-stabilized Foams.

Paolo Ermanni; Joanna Wong; Andre R Studart; Urs T Gonzenbach; Ludwig J Gauckler; Stephan Busato; Elena Tervoort. (2009)

PVDF Particle-stabilized Polymeric Foams as Piezoelectric Space-charge Electrets.

Urs T Gonzenbach; Stephan Busato; Paolo Ermanni; Elena Tervoort; Joanna Wong; Andre R Studart; Ludwig J Gauckler. (2009)