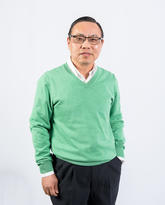 Yang Gao
Professor
Department of Geomatics Engineering
PhD, Geomatics Engineering
University of Calgary
MSc, Surveying Engineering
Wuhan University
BSc, Surveying Engineering
Wuhan University
Contact information
Courses
ENGO465 – Satellite Positioning
ENGO563 – Data Analysis in Engineering
ENGO629 - Advanced Estimation and Analysis
Preferred method of communication
Please contact me by email.
Research and teaching
Research areas
Satellite-based positioning and navigation
Multi-sensor integration
Intelligent and Autonomous Systems
Satellite technologies and Multi-sensor systems
Biography
Dr. Yang Gao is a professor in the Department of Geomatics Engineering at the University of Calgary, with over 25 years of experience in development of precise positioning and navigation systems using GNSS and INS technologies and commercialization of research results into products. He has led many highly competitive research projects including the NSERC Strategic Partnership, the Canadian Network Centers of Excellence (NCE) and the Canadian Foundation for Innovation (CFI) grants. His research has contributed to the development of several new positioning and navigation systems including commercial products that have been sold world-wide.
Dr. Gao has published over 300 papers in academic journals and conference proceedings, in which he and his students have received over 20 national and international paper awards. He has supervised and graduated over 45 MSc and PhD students. He is the recipient of various national and international awards in recognition of his academic contributions including ION Thurlow Award and APEGA Research Excellence Summit Award, IAG Fellow, CPGPS Distinguished Leadership Award. He also received the research excellence award, teaching excellence award and graduate educator award from Schulich School of Engineering.
Dr. Gao is an internationally recognized scholar in the field of satellite-based positioning and navigation. He is the current vice-chair of International Association of Geodesy's sub-commission on "multi-constellation GNSS" and has served the chair on "Next Generation RTK", "High-Precision GNSS" and High-Precision GNSS Algorithms and Applications" from 2003-2015. He is the founding president of the International Association of Chinese Professionals in Global Positioning Systems. He has served on the editorial boards of six international journals including Journal of Geodesy, IEEE Transactions on Vehicular Technology, Journal of Global Positioning Systems.
Prior to joining the University of Calgary, Dr. Gao spent two years as a post-doctoral fellow at the Geodetic Survey of Canada and three years in industry holding several positions from research scientist, R&D manager to manager on business development of Asia-Pacific.
Awards
2018 - Research Achievement Award, Schulich School of Engineering
2018 - Research Excellence Summit Award, Association of Profesional Engineers and Geosicietists of Alberta
2017 - Thurlow Award, US Institute of Navigation
2017 - Research Achievement Award, Schulich School of Engineering
2017 - Teaching Achievement Award, Schulich School of Engineering
2015 - Geomatics Science and Technology Award, National Administration of Surveying, Mapping and Geoinformation of China
2015 - Geomatics Department Teaching Excellence Award, Schulich School of Engineering
2014 - Teaching Excellence Award, Schulich School of Engineering
2012 - Best Paper Presentation Award, ION GNSS+, Nashville, Texas, USA
2010 - Best Paper Presentation Award, ION GNSS+, Portland, Oregon, USA
2009 - Outstanding Faculty Research Project Award, US National Homeland Security Project
2008 – Distinguished Leadership Award, International Association of Chinese Professionals in Global Positioning Systems
2007 - Fellow, International Association of Geodesy
2007 – Changjiang Scholar, Chinese Ministry of Education
2006 – Intermap Award, Canadian Institute of Geomatics
2006 – Best Paper Award, International Multiconference of Engineers and Computer Scientists
2006 – Graduate Education Award, Schulich School of Engineering