$2M
research funding per year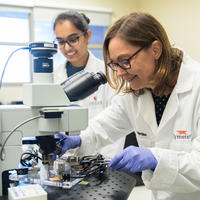 Research areas
Our research ranges from transportation systems and airport planning to improved water resources and novel materials development. In addition, biomedical engineering research ranges from bone and joint health to new diagnostic tools.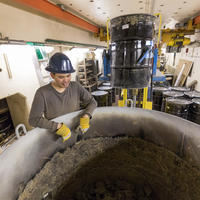 Research facilities
Specialized facilities across the department range from large-scale structural testing bays to small-specimen testing labs. Capabilities are wide-ranging, with labs for advanced geomechanics testing, materials preparation and more.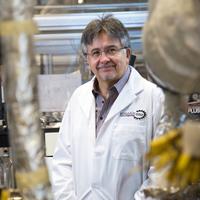 Research across Schulich
Our faculty recognize the power of collaboration. Get an at-a-glance look at Schulich's expansive body of engineering research. Explore our main research themes and the amazing projects and partnerships that support them.
Improving your commute
Improving your commute
Dr. Lina Kattan, PhD, holds the Urban Alliance Research Professorship in Transportation Systems Optimization. She's developing solutions for Calgary's growing community, researching attitudes towards autonomous vehicles, real-time transit information, the cost of road congestion and more.
Building bridges that last
Building bridges that last
Dr. Mamdouh El-Badry, PhD, and his research team have developed a hybrid concrete and glass-fibre-reinforced polymer bridge system in place of today's steel-reinforced concrete bridge girders. This solution is stronger, maintenance free and could last three times longer than traditional bridges.
Engineering sustainable communities
Engineering sustainable communities
Dr. Kerry Black is working with Indigenous communities on urgent infrastructure issues across Canada. She is passionate about cross-disciplinary research that combines policy, socio-economics and community partnerships with civil and environmental engineering –with the goal of creating healthy, resilient communities.
Industry research partnerships
Working with you to solve society's greatest challenges