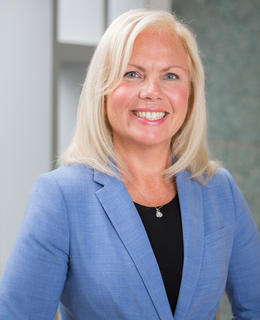 Dr. Linda Duffett-Leger, PhD
Positions
Associate Professor
Faculty of Nursing, Faculty
Academic Lead (37533) Healthcare Innovation and Design Graduate Certificate
University of Calgary
Child Health & Wellness Researcher
Alberta Children's Hospital Research Institute
Affiliations
Teaching Scholar
University of Calgary
Co-Lead Research (38617) BME Research Strategy (Health Monitoring and Management)
Faculty of Nursing, Faculty
Background
Educational Background
PhD Interdisciplinary Studies, University of New Brunswick, 2011
MN Nursing, University of New Brunswick, 2006
BN Nursing, University of New Brunswick, 1996
BA Psychology, University of New Brunswick, 1992
Biography
Dr. Duffett-Leger is an assistant professor at the University of Calgary in the Faculty of Nursing. Her program of research recognizes a fundamental paradigm shift, from treatment of disease to wellness promotion, by focusing on reducing the economic and human costs associated with chronic illness through the development of innovative health promotion and disease prevention strategies and technologies.
Dr. Duffett-Leger is currently leading an interdisciplinary study investigating how wearable devices can empower nurses to better monitor and maintain their back health. Linda is currently a member of the Biomedical Engineering (BME) Steering Committee and the Academic Committee on Entrepreneurship and Innovation (ACEI).
She is also a Teaching Scholar at the Taylor Institute for Teaching and Learning for her work in implementing a team-based learning approach using innovative e-learning technology. Dr. Duffett-Leger was identified as a Rising Star in Chatelaine magazine, acknowledged as one of the Top 5 Women Revolutionizing Healthcare in Canada.
Research
Areas of Research
Injury Prevention
Maternal Health
Mental Health
Musculoskeletal
Population Health
Chronic Illness
Public Health
Wearable devices
Interdisciplinary research
Participation in university strategic initiatives
Projects
Program of Research
A registered nurse (public health) and certified user experience designer, Dr. Duffett-Leger's program of research focuses on using participatory design methods in the co-design of wearable and mobile technology solutions to solve real-world clinical problems. A key member of the Biomedical Engineering (BME) community at U of C, Duffett-Leger is co-lead of the BME Research focus in Health and Monitoring and Management. She is an active member of the STiMM (Sensor Technology in Monitoring Movement) program, funded through the UCalgary BME Strategic Health Research Initiative, and the NSERC CREATE We-TRAC (Wearable Technology Research and Collaboration) program — a unique training program focused on the biomechanics of human motion, data science, visualization, knowledge translation and entrepreneurship for the wearable tech sector. Dr. Duffett-Leger has been actively involved in community-based research for over a decade and has collaborated with the CHILD studies program (Dr. Nicole Letourneau) since 2003, co-publishing several studies on the development of support interventions to ameliorate the impacts of postpartum depression on the family. She brings expertise in maternal-child mental health interventions, user-generated health technologies and integrated knowledge translation.
Awards
Innovation in Healthcare/Health Technology,

ASTech Awards.

2022

Faculty of Nursing Pursuit of Excellence Award: Inspirational Preceptor and Mentor Award,

Faculty of Nursing, University of Calgary.

2019

The Covenant Health Faculty of Nursing Team Award,

2015