40
research contracts per year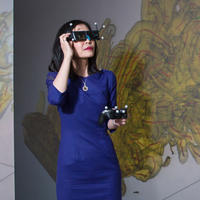 Research areas
We're advancing knowledge and solutions in power and energy-control systems, radio systems, telecommunications and wireless technologies, biomedical engineering, virtual reality and artificial intelligence.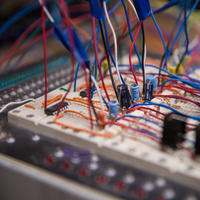 Research facilities
State-of-the-art facilities support our research. Our labs facilitate specialized research in energy systems, biomedical engineering, radio systems, software engineering, and micro- and nano-systems.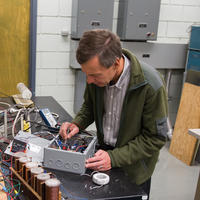 Research across Schulich
Our faculty members recognize the power of collaboration. Get an at-a-glance look at Schulich's expansive body of research. Explore our main research themes and the amazing projects that support them.
New, safer diagnostic tools
New, safer diagnostic tools
Dr. Elise Fear, PhD, is investigating the applications of microwave medical imaging to detect breast anomalies, identify dehydration in athletes and monitor heart health. This work will lead to more flexible imaging systems that cost less, provide new information and don't expose tissue to radiation.
Improving emergency apps
Improving emergency apps
Dr. Guenther Ruhe, PhD, and Dr. Maleknaz Nayebi, PhD, developed MAPFEAT (mining app features from tweets). They measured 70,000+ tweets during the 2016 Fort McMurray wildfire, discovering that only six out of the 40 top needs for information were met. This knowledge will improve emergency apps of the future.

 
Integrating renewable energy sources
Integrating renewable energy sources
Dr. Andy Knight, PhD, sees a future where renewable energy systems integrate seamlessly into the grid. He's working on reliable, stable systems using variable energy sources such as wind and solar power. He's also researching more efficient electrical energy conversion for electric and hybrid vehicles.
Industry research partnerships
Working with you to solve society's greatest challenges