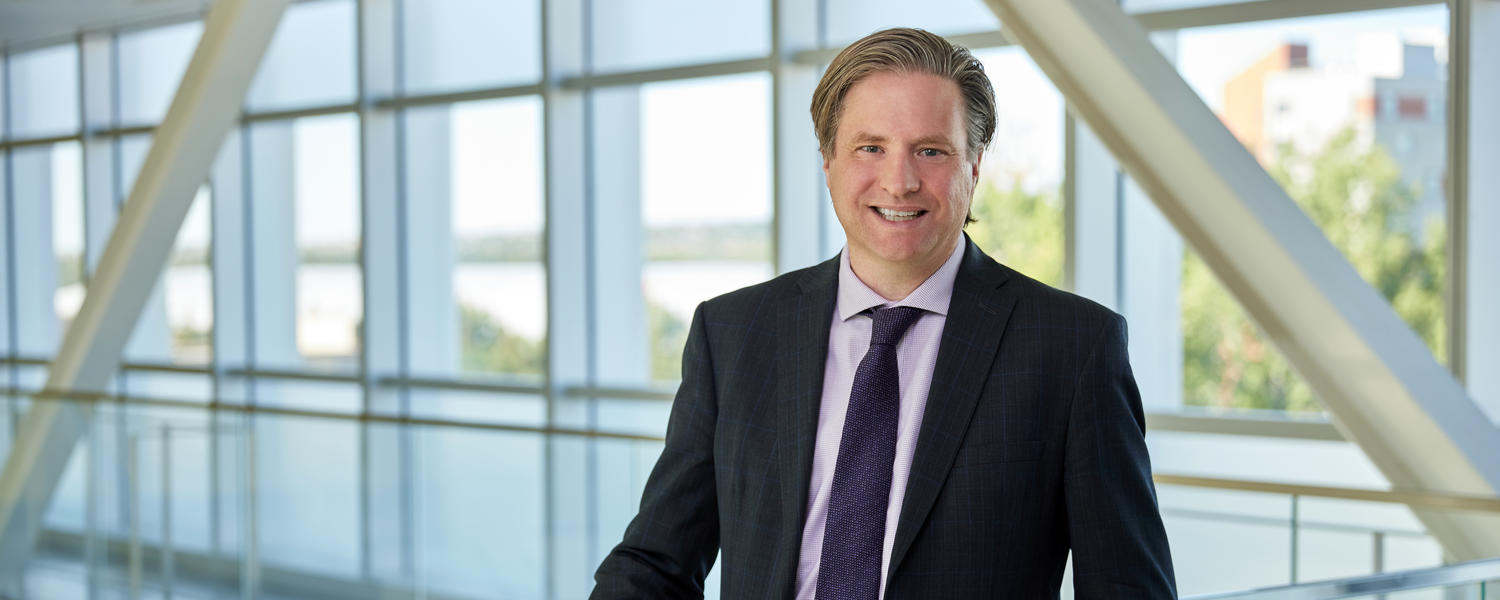 About our dean
Dean Bill Rosehart and the Schulich leadership team are proud of the momentum created in our faculty over the years as we work towards enhancing our community and expanding our impact.
For over 20 years, Dr. Bill Rosehart, PhD, has been a passionate advocate for engineering research and education. First appointed Schulich School of Engineering dean in 2014, Bill led the school to launch several new undergraduate, graduate and transfer programs - expanding access to the engineering profession.
During his tenure as dean, the school has welcomed record numbers of engineering students, dramatically increased student retention rates, significantly expanded student work placements and supported faculty to secure more federal funding for high impact research than ever before.
Bill has overseen the physical transformation of the Schulich School of Engineering from some of the oldest buildings on campus to the new Canadian Natural Resources Limited Engineering Complex.
He is committed to enhancing our global research impact, expanding access to engineering and enriching the student experience.
Most recently, Bill has shaped the launch of a series of leading-edge initiatives including creating a new digital innovation hub, establishing a new platform for student enrichment experiences, supporting expanded career services for engineering students, launching a new student wellness centre and building a network of new engineering makerspaces.
Bill Rosehart is registered as a Professional Engineer through APEGA. He was also a founding member of the Canadian Engineering Education Association (CEEA) and has been inducted as a Fellow into the Canadian Academy of Engineering for his commitment to innovation in teaching and learning. He is a well-established researcher in the area of electrical energy engineering and has published over 100 scholarly articles, and supervised or co-supervised 20 graduate students.
April 1, 2014
- Present
Bill Rosehart
July 1, 2013
- Mar 31 2014
Bill Rosehart (Interim Dean)
July 11, 2011
- Jun 30 2013
Guy Gendron
July 1, 2010
- Jul 10 2011
Anil Mehrotra (Interim Dean)
July 1, 2006
- Jun 30 2010
Elizabeth Cannon
Jan. 1, 1994
- Jun 30 2006
S. Chan Wirasinghe
July 1, 1990
- Dec 31 1993
Edward Rhodes
July 1, 1985
- Jun 30 1990
Len Bruton
Jan. 1, 1981
- Jun 30 1981
Om Malik (Acting Dean)
July 1, 1975
- Jun 30 1985
Thomas Barton
Jan. 1, 1975
- Jun 30 1975
Art McMullen (Acting Dean)
Aug. 1, 1974
- Dec 20 1974
Grant Huber (Acting Dean)
July 15, 1968
- Jul 31 1974
Robert Ritter
July 1, 1967
- Jun 30 1968
Rod de Paiva (Acting Dean)
April 1, 1965
- Jun 30 1967
Adam Neville