The friendships made along with the engineering insight and experiences gained were memories I will carry my whole life. I am incredibly happy I chose to go on this trip and would absolutely recommend it to anyone.
97% of students surveyed would recommend their Global Engineering Experience to other students
Upcoming global experiences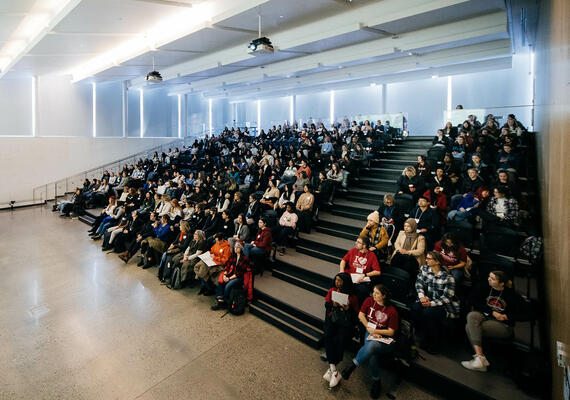 Grace Hopper Celebration
Sept. 26 - 29, 2023
Orlando, Florida
This is the world's largest gathering of women technologists. Hear from inspiring speakers, connect with peers and mentors and gain important resources to help you succeed in your career. 
Grace Hopper Celebration timeline for students
July 4: Applications open
July 17: Applications close
July 20: Selected students are notified
July 21 - August 4:

Selected students pay in full, in person at the ECC office
Selected students complete Risk Management documentation and waiver

August 4 (4 p.m.): Deadline for students to submit documentation and payment in full
August 12: ECC notifies students who were not selected for the trip
September 14: Selected students complete Study Abroad modules in D2L
September 15 - 20: Attend Pre-Departure Meeting
September 26: Depart for Orlando, Florida
September 26 - 29: Attend Grace Hopper Conference
September 30: Return to Calgary
Selection process
Once the application period closes, the Engineering Career Centre (ECC) will review applications to ensure the applicant meets the minimum criteria.
Students who meet the minimum criteria will be entered into a lottery for their departmental trip.
Applicants will be selected from the lottery. The ECC will ensure that the final list of students will be inclusive of equity deserving groups.
Then, a wait list for each department trip will be created based on the remaining qualified applicants in their respective department lottery pool. Should there be a vacancy, further students may be selected from the lottery.
Selection criteria
Students of all years may apply if they: 
Are a Schulich student in good academic standing (GPA of 2.0 or higher)
Have not participated in a previous year
Reflect and support equity deserving groups
Please note: If you are selected for a global experience trip and do attend, you will not be eligible for future global experience trips.
Student expectations
You can expect to: 

Travel and participate in a planned itinerary as a group
Share a room
Make on-time payments
Have a valid passport, medical/health insurance, vaccinations, visa, etc.
Participate in pre-departure online education and mandatory trip meetings

Students are expected to cover additional expenses (managed directly by program participants):

Meals (some will be provided, depending on program)
Additional baggage fees (if required)
Passport and photos (If required)
Immunizations based on recommendations from travel clinic, cost varies depending on individual circumstances and destination countries
Travel insurance (emergency response is included)
Students pay for approximately 50% of the trip cost with the remaining 50% paid by the Schulich School of Engineering. 
Please read the Student Participation Agreement for exact details.
Cancellation policy
The student assumes all financial risk and responsibility for their trip payment should they cancel, as payment will not be refunded. Students may purchase their own trip cancellation insurance if they wish.
Interested in a global experience?
Apply for selection and you'll hear back if selected for an experience.