Your engineering career starts here
Build your resume
Gain valuable advice from engineering employer specialists. Learn how to prepare for your first interview. Meet future employers at our industry events and panel discussions. Whatever you need, the Alka and Sanjeev Khanna Engineering Career Centre is dedicated to helping you launch your career.
Gain paid work experience
Some universities call it a co-op, others call it an internship. Whatever the name, we know work experience is critical to career success. We offer an opportunity to complete a paid 12-to-16-month engineering work term. We connect you to employers, help you navigate application processes and more. Stay close to home or travel the globe as part of our world-class internship program.
Prepare for your first job
Success in the workplace is about more than what you learn in class. Develop time-management, strategic-planning and team-building skills in our Engineering Leadership Program. Cultivate the professional skills engineering companies are looking for.
Engineering in action
A DNA sequencer, a device to remove plastics from polluted rivers and a bike designed to withstand winter – just a few of the inventions created by students like you. A capstone design course is completed in your final year. It's your chance to work in a team and create something completely new. Invent, inspire and experience entrepreneurship.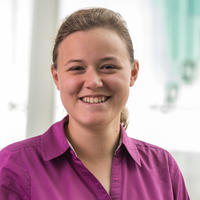 I still can't believe I got to live in California for a year! Thanks to the University of Calgary's internships, I was paid to work as a junior engineer in San Francisco before graduation. It was like living the dream.
Alina Kunitskaya
Recent engineering graduate