Recent graduate
Braden Hommy, BSc (Eng)'16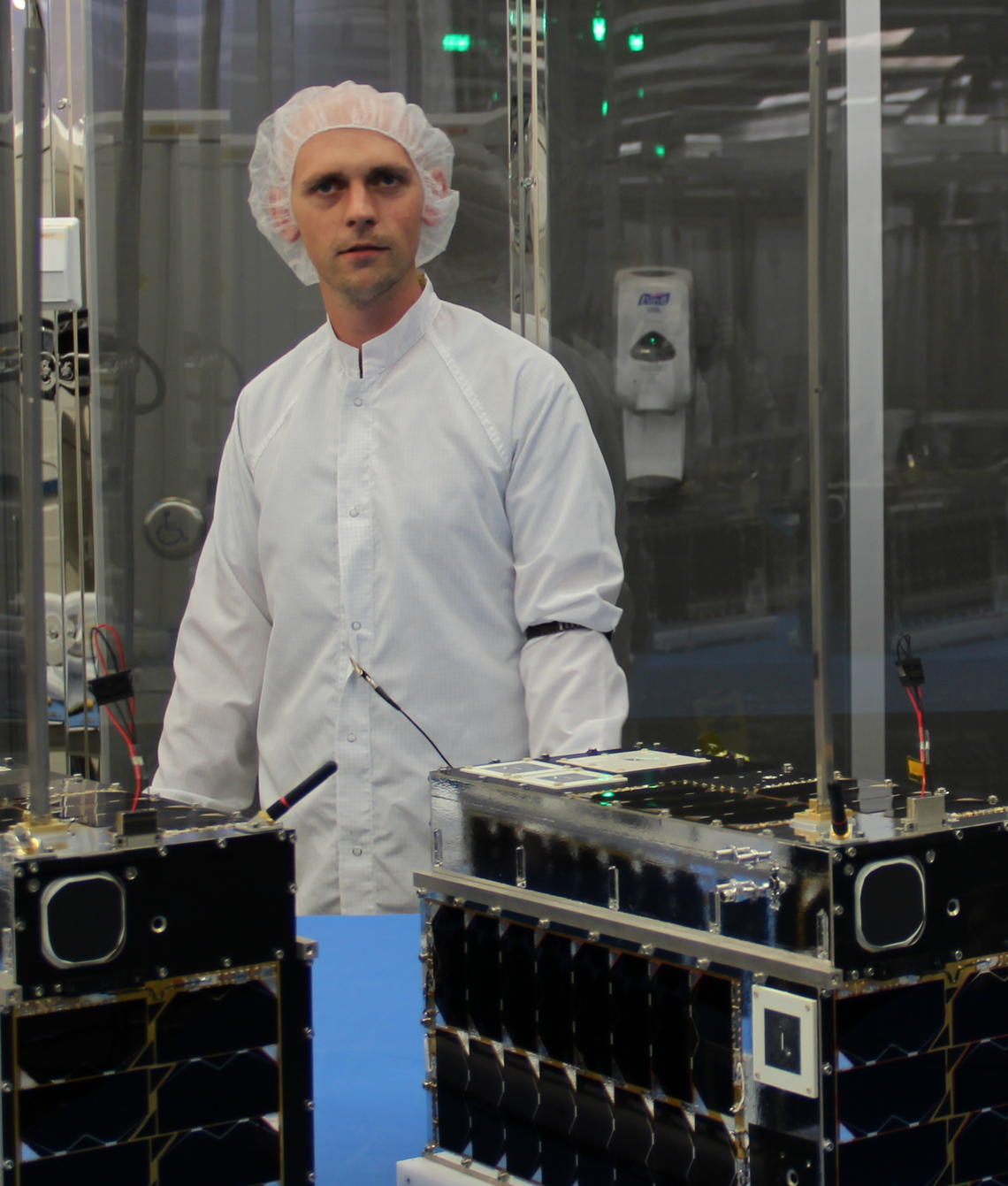 BSc Mechanical Engineering
Specialization in Biomedical Engineering
Schulich School of Engineering
University of Calgary
Where is he today?
Spacecraft Mechanical Systems Engineer, Space Flight Laboratory
Rocketing off for an exciting career
I am a spacecraft mechanical systems engineer with the Space Flight Laboratory in Toronto. We're a speciality lab at the University of Toronto that builds small satellites (generally in the 10-50kg range, though they can be as small as 1kg or as large as 500kg) for all sorts of different end-users. We've built satellites for commercial companies, government agencies (both at home and abroad), and for research. In fact, UCalgary's own Elizabeth Cannon was actually involved with one of our early satellites called CanX-2, which is an awesome Calgary connection for me.
After graduating from UCalgary, I went to U of T to do my masters in Aerospace Science and Engineering. I actually did my research at the Space Flight Lab where I now work, so I was able to realize how much I loved the work before I ever actually worked. There are new challenges every day that require creative solutions which I love, and when the end product goes up on a rocket after a few years of hard work it's hard not to have a huge smile on your face. My career is just starting out (having only finished my masters in 2018), so it's hard to say it's "taken off", but I'm certainly thrilled with where I am now.
The most exciting thing about my career is the exploratory aspect of it. Space is truly the final frontier, and it's exhilarating to participate in this industry every day. It's a ton of work, but when I take a step back and look at what I do it just motivates me to work even harder. I also think we are starting to enter a space age (one that we all thought arrived in the 60s with the Gemini and Apollo programs) across the globe with more and more companies realizing the benefits of space-based infrastructure. The increasing share of commercial spacecraft (as opposed to the traditional big-government satellites everyone imagines) in the industry leads me to believe that we're just beginning. Access to space is being democratized by rapidly decreasing costs, thanks to innovators like SpaceX, Rocket Lab, and small spacecraft providers like us. It's this combination of exploration, innovation, and potential that makes me so excited to get up and go to work every morning.
The picture I choose is a picture of me in our clean room facility with three identical satellites that I designed and built (as part of a team of incredibly talented and awesome people). They launched on Dec 3, 2018 from Vandenberg Air Force Base in California aboard a SpaceX Falcon 9 rocket, and they are truly my pride and joy.
You need to break a complex problem down before you begin to attack the solution.
Braden Hommy
BSc (Eng)'16
How did UCalgary's Schulich School of Engineering prepare you to be an engineer?
UCalgary engineering prepared me for where I am now in a number of ways. Obviously there's the base-level knowledge in math, physics, etc. But that can be learned anywhere. I think the single biggest advantage UCalgary gave me was through out-of-classroom opportunities, such as the 16 month internship I did after my third year. 
The 16 month program is infinitely more valuable than the 4 or 8 month terms most other universities do. I spent 16 months at an awesome startup company in Calgary called Nanalysis, building benchtop nuclear magnetic resonance (NMR) spectrometers. It's difficult to describe how much I learned at Nanalysis; it reinforced that the things I learned in school actually do have real-world applications. I think it's easy to lose sight of that when you're buried in books for four years straight, but my eyes were certainly wide open entering fourth year understanding how an actual engineering career might look. I credit that opportunity a ton with pushing me harder in my fourth year, where I had my best academic performance which certainly helped me get to where I am today.
Beyond the internship program, I also had an excellent experience doing my fourth-year biomed research project. I worked with Amir Sanati-Nezhad and one of his post-doc students Hamid Sadabadi developing a microfluidic platform for to perform local stimulation of axons. Basically applying drugs to only certain parts of cells in an effort to determine potential treatments for degenerative muscular diseases such as ALS or Parkinson's. It was great to get the chance to see what the research experience was like as an undergrad - both the freedoms and responsibilities associated with it. I enjoyed it immensely, but it also helped me realize that a career in pure research was probably not for me.
What were your Schulich School of Engineering highlights?
My number one highlight from Schulich Engineering was probably listening to Dr. Martinuzzi. He was such an engaging lecturer, describing everything in great depth both mathematically and practically. He was also just an all around hilarious guy, some of his anecdotes still crack me up (a diatribe about Emmental cheese during a turbomachinery lecture stands out...). But the man is absolutely brilliant, and while every time I spoke to him in person I felt wildly inadequate, I always learned an immense amount from even a 5 minute conversation after lecture. I think he is the crown jewel of the mechanical engineering department and I'm so grateful that I had the opportunity to learn from him for two years.
Who were your UCalgary mentors?
My biggest UCalgary mentor was my older brother Kale, another alumni. As far as I know, he was the first Hommy to earn a University degree and I've always viewed that as a huge achievement. I've always followed in his footsteps, and it was easy to continue that here.
What is your advice for new engineering students?
I think the best advice to new engineering students is to just ignore what everyone says. Your experience will be your experience. A lot of people say first year is brutal, or that an engineering degree will guarantee you a high-paying job. These things are definitely true for a lot of people (maybe even most), but I think it does a disservice to your learning experience to have an exact expectation on anything. I fear it might also scare some potentially great engineers away, or make people feel like it's inevitable that they'll have to drop out. Personally, I found first year to be okay, but I struggled a bit in 2nd/3rd year. It all depends on the person, so just go in with passion. If you actually want to work hard and learn the material, you'll be just fine.
What is your life beyond engineering?
Not much! I kid, I kid. I'm a huge hockey fan (go Oilers!), and I like to play music as well. I play in a community orchestra here in Toronto, and we put on concerts for people who wouldn't otherwise have the chance to see a string orchestra live. Places like nursing homes and hospitals generally. I love seeing how excited some of our audience members get when we play. Our conductor (Ric Giorgi) is such a kind man, and it's just a ton of fun to play for him and so rewarding to watch our group progress throughout the year.
What does it mean to you to be an engineer?
I think being an engineer just means you're a problem-solver. I think to those unfamiliar, engineering is this scary/boring world where you're pumping out equations all day on your TI-83. That's definitely not the case (at least not for me). The math and theory certainly helps to understand the cause and effect of your problem, but to me the most important aspect is being able to take in information and boil it down to the essentials. You need to break a complex problem down before you begin to attack the solution.