Recent graduate
Tyler Anker, BSc (Eng)'17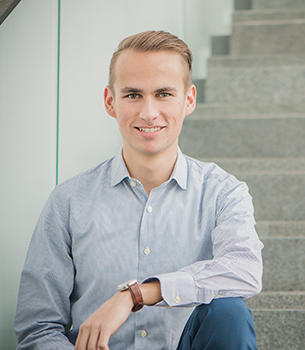 BSc Mechanical Engineering
Schulich School of Engineering
University of Calgary
Where is he today?
Medical student, Cumming School of Medicine
University of Calgary
Engineering your way to medical school
I entered the engineering program with no real idea of what I wanted to do with it afterwards. I chose mechanical engineering because I felt it would give me a lot of options, career-wise, upon graduation.
I did a 12-month development engineering internship with Husky. After graduating in 2017, I took the summer off to write the MCAT so I could apply to medical school. Once I completed that exam, I started working as a junior pipeline engineer for CH2M Hill. I was hired to work on a large-diameter high-pressure/temperature pipeline. After CH2M was bought by Jacobs partway through my tenure, I transitioned to working on a more traditional, smaller pipeline. My role included tasks ranging from programming a pre-heating time calculator for a segment of pipe to less exciting things like creating data-sheets and cost summaries for line pipe.
Now that I have started medical school, I have resigned from my engineering job to focus on school again. I don't have any concrete plans regarding the direction I wish to go with my medical education, but I think I will end up in an area where I have a wide scope of practice.
The pressure that you put on yourself to achieve good grades is far greater than anybody else will put on you.
What is your favourite memory from your time at UCalgary?
Just the amount of time you get to spend with your friends around campus. I always enjoyed my time at school because of the great group of friends I went from class to class with and was able to just relax with if we had some downtime.
What was your favourite campus hang-out spot?
Either the biomedical engineering homeroom or outside, between Mac Hall and TFDL, if it was a nice day.
What advice would you give your student self, knowing what you do now?
The pressure that you put on yourself to achieve good grades is far greater than anybody else will put on you. In the grand scheme of things, a few bad grades are not going to make or break your GPA, much less your career.
How did your engineering degree help you get to where you are today?
Engineering helped me form good study habits and forced me into being a more effective learner. These skills translate well into almost any field, and I hope that the logical and systematic problem-solving approach that is required of you in engineering will continue to be invaluable whatever I pursue in the future.
How has your career path evolved and changed since your graduation?
Since graduation, I have taken the MCAT and been accepted into the Cumming School of Medicine at the University of Calgary. I'm confident that a large part of the reason I was accepted into the program was due to the unique nature of my undergraduate degree compared to the majority of applicants. This shows that taking engineering doesn't limit your options after graduating.