Alumni spotlight
Chris Leskiw, BSc (Eng)'99, PhD (Eng)'15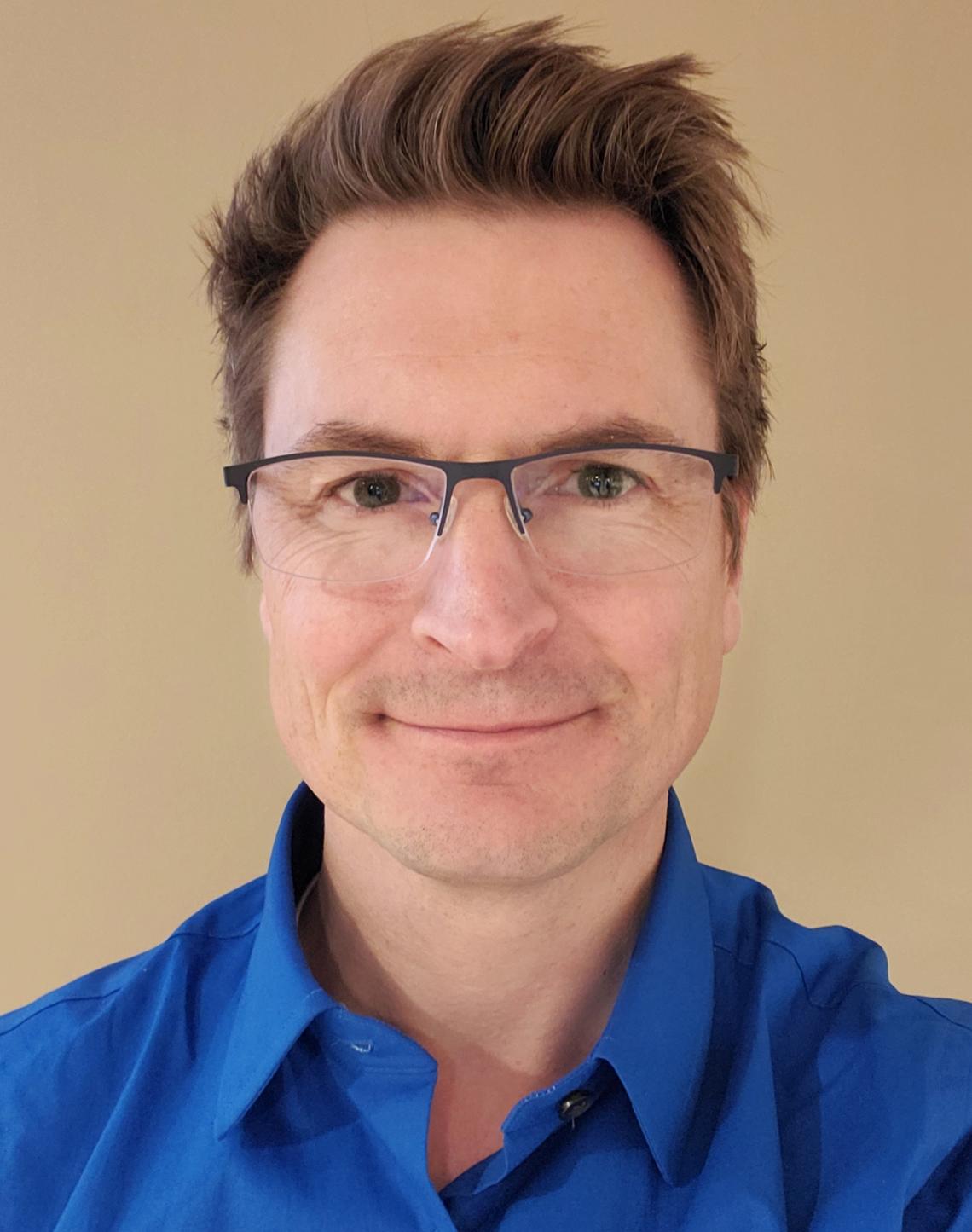 Electrical engineering PhD develops high-accuracy spatial positioning tech
As Vice President of Research and Development at ZeroKey Inc., Chris Leskiw is responsible for laying the groundwork for sub-centimetre, three dimensional, real-time positioning technologies. Chris graduated with a BSc in Electrical and Computer Engineering (1999) and worked in the digital telecommunications industry, contributing to patented technology that adaptively linearized cellular transmitters. He returned to UCalgary to pursue a PhD, taking developments from telecommunications and applying them to imaging problems, resulting in patented systems spanning in-situ tomography, diagnostic sonography and non-destructive testing. Chris now applies his experience from both communications and imaging to spatial location problems that require a much higher accuracy than conventional technologies like GNSS. His work was paramount during the COVID-19 pandemic, developing a system that self-learns the location of client-installed reference nodes instead of requiring on-site survey and installation by ZeroKey staff. Chris is also an advocate for Schulich internship students; currently his team employs two from the electrical engineering department.
The work ethic and resilience needed to complete my degree were instrumental in my success in the many roles I've had to fulfill.   
Chris Leskiw, BSc (Eng)'99, PhD (Eng)'15
Vice President, Research and Development, ZeroKey Inc.
What is your favourite memory from your time at UCalgary?
My favourite memory from my time at UCalgary, especially during my undergraduate studies, was the comradery that developed among the students in the computer lab as we worked through simulations, code-development and various other assignments.  It seemed to be the place where we shared our stories while at work. In particular, I recall a time when my girlfriend, (now wife) was completing a health sciences assignment on skin diseases in the lab seat next to me. The reaction of disgust from my fellow engineers to images stemming from the darker realities of the human body was both entertaining and memorable.
What did you learn about yourself while you studied engineering?
The third-year workload, especially during exam-time, built and tested my resilience. Getting through that experience laid the foundation for confidence during similar periods throughout my career. 
What is the career highlight or professional accomplishment that makes you proudest?
Real-time location systems, like the ones we develop at ZeroKey, require equipment (anchors) in known, fixed positions to triangulate the position of a tracked device. For new deployments, this usually means some form of site survey and calibrated installation by professionals so that the anchor positions are well defined. This fact crippled new deployments during the pandemic as travel and on-site visits were prohibited. It was very rewarding to be able to develop a system where the tracked units and anchors could simultaneously triangulate each other, effectively calibrating the system while in use. This way, the client could install the anchors wherever they wanted to and, while walking around their facility with one of our trackable devices, the system would self-calibrate to fulfill the needs of a survey - without a visit from ZeroKey staff. There were difficult mathematical and engineering problems, but, as a result of working through them, we now have an industry-leading solution that can be installed entirely by the client.
How did your engineering degree help you get to where you are today?
The engineering degree from Schulich, and my internship experience, provided me with the qualifications for employment in the leading tech companies at the time. The work ethic and resilience needed to complete my degree were instrumental in my success in the many roles I've had to fulfill.   
How has your career path evolved and changed since your graduation?
My career evolved from process-driven, large corporations to nimble, entrepreneurial start-ups.  Effectively, my career began with an internship at Nortel. That led to a full-time position there, where I got to benefit from the experience of working for a large company. It was there that quality control, standards, and version control processes taught me good practices. Later, as my career transitioned to positions in start-ups, I had to self-impose the processes that were previously rigidly enforced. I am now at the stage where I develop and impose processes to foster the evolution of companies, from fragile start-ups to organizations that are sustainable, yet continue to grow.