Alumni spotlight
Jeff LaFrenz, BSc (Eng)'88, MSc (Eng)'91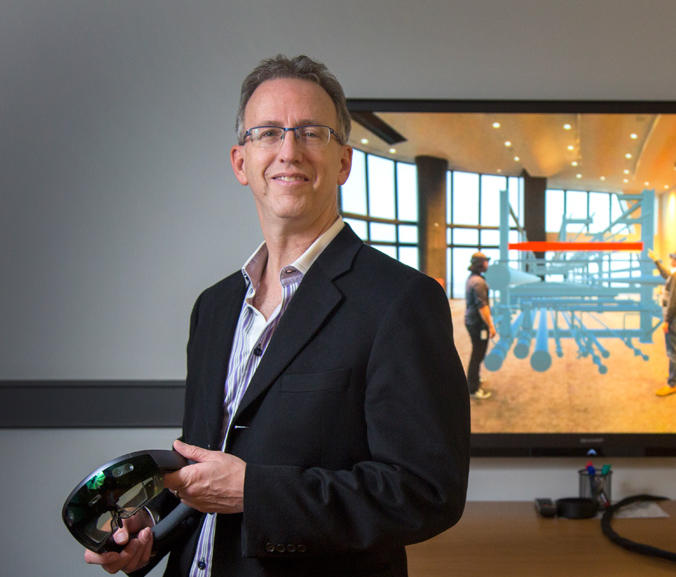 From engineer to serial entrepreneur
As a serial entrepreneur, with over 30 years' experience in technology commercialization, Jeff thrives on building successful enterprises that draw from his multi-disciplinary and multi-industry background.  Co-founder and President of VizworX Inc., a rapidly growing human interaction solutions company headquartered in Calgary, Jeff works with an amazing team to enable clients to turn their data into business success.  He also loves to give back, whenever he has the time to do so, and his volunteer activities include Chair of the Schulich School of Engineering Alumni Chapter, member of the Schulich Industry Advisory Council, past member of the UofC Senate, past member of the UofC Board of Governors, past President of the UofC Graduate Students' Society, current member of the UofC Calgary Youth Science Fair (CYSF) Steering Committee and Digital Theme Lead for the Clean Resource Innovation Network (CRIN).
It is a world view that can be applied anywhere and for anything and has allowed me to do things that I would never have imagined when I graduated.
Jeff LaFrenz
President, VizworX Inc.
What is your favourite memory from your time at UCalgary?
My favourite memory from my time at UCalgary was what we called Queen Week in those days and is now called Engineering Week. This was a major week-long event at the time that fully and passionately engaged all the students and a lot of the faculty and staff in every department. You could literally not see the walls in the hallways leading to the departmental home rooms, as they were covered with posters celebrating the chosen theme, all of them hand-made. Students in the departments created amazing theme costumes and dressed up in them for the entire week. Events including competitions of all sorts, from skits and plays, to sculptures, to a scavenger hunt that truly tested our abilities. A parking ticket from Tuktoyaktuk, a cat with two different coloured eyes, a photo of your leadership team in front of a road sign in some remote part of western Canada, a hang glider in the courtyard…. It seemed like the weirder and more wonderful, the more likely it was to be on the list. As this was before the Internet or digital photography, the logistics of getting your team out to all the various locations to find these items and bring them back, let alone participate in all the other parallel competitions, was a true test of creativity, leadership and teamwork that forged lifelong bonds and friendships.
What was your favourite campus hang-out spot?
The third and fourth year home rooms, where we all hung out between classes and labs.
What advice would you give your student self, knowing what you do now?
Do it all again the same way!
How did your engineering degree help you get to where you are today?
What I value most from my engineering degree is not any specific knowledge of technology or techniques, although those have helped along the way. More, it has been the attitude and approach that I learned. How to look at problems, how to blend multiple approaches and disciplines together to create the best solutions. It is a world view that can be applied anywhere and for anything and has allowed me to do things that I would never have imagined when I graduated.
How has your career path evolved and changed since your graduation?
My career path has been anything but linear. Not only have my skill sets evolved in many different directions, starting from circuit board and computer system design, through to large-scale system design, to global business development and to building my own companies, but I have also worked in a great diversity of industries. Satellite remote sensing, air traffic control, digital telecommunications, biotech, oil and gas, construction, aerospace and defence are but a few of the industries I've had the opportunity to work in through my career so far. What I've always found valuable is that if you have the right mindset, and my engineering background has certainly helped provide me with that. There are tremendous opportunities in identifying cross-cutting concepts that bridge between industries and allow you to apply the knowledge learned in one to others where that knowledge creates a novel and successful solution. In 2012, this culminated in my most recent venture, VizworX Inc., which is a rapidly growing software development company providing innovative human interaction solutions for a wide variety of industrial clients, using leading-edge technologies such as augmented and virtual reality, artificial intelligence, IoT and data visualization.