Recent graduate
Haley Lawrance, BSc (Eng)'16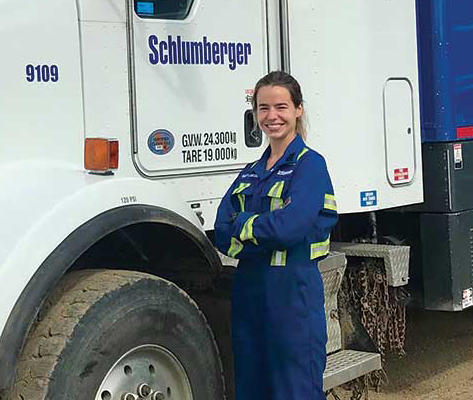 BSc Geomatics Engineering
Schulich School of Engineering
University of Calgary
Where is she now?
Wireline Junior Field Engineer, Schlumberger
 
Schulich alumna Haley Lawrance engineers her way out into the field
So far, Haley Lawrance's engineering career can best be described as "seriously not a desk job."
After graduating from UCalgary's Schulich School of Engineering, she headed to Abu Dhabi in the United Arab Emirates for a couple of months of training before going out to sea.
As a positioning engineering trainee and then a positioning engineer for Schlumberger, she worked on WesternGeco vessels acquiring seismic data in the Gulf of Mexico. For the first year and a half, she bounced between five- to eight-week posts at sea near New Orleans, Villahermosa, Mexico, and Georgetown, Guyana.
"It was quite the adventure. I felt like a modern-day sailor," says the self-described prairie girl, who grew up in landlocked Grande Prairie, Alberta. Although there were modern amenities on the ships - including WiFi - fluctuating weather could make the work "extremely challenging" and certainly never boring. And, there was the opportunity to bond with co-workers with various skill sets from different countries. "I was very pleasantly surprised that I met a lot of young female professionals who I had a lot in common with," she says.
When Lawrance was in her last year of university, and trying to figure out what kind of job she was going to have, she says, "I never in a million years would have pictured myself working offshore on seismic vessels," she says.
Lawrance's desire to study engineering solidified in high school when she took part in WISEST - Women in Scholarship, Engineering, Science and Technology, a six-week summer research program based in Edmonton. But, during her first year at the Schulich School of Engineering, she found herself sometimes questioning, "Do engineers only do calculus and dynamics and stats?" Then came her first summer job. Working in the field, operating oil well and injection sites for Enerplus Corporation, reaffirmed for Lawrance that she did want to be an engineer. "It was a defining moment for me," she says.
"I now know that being an engineer is so much more to me than math and science. It's really not that at all," she says. "Being an engineer is much more about being able to survive in unknown environments, learn new things and solve complex problems."
Recently, Lawrance was transferred to work in Schlumberger's wireline product line, conducting open-hole logging at well sites throughout British Columbia, Alberta and Saskatchewan. Initially, she is shadowing field engineers to learn the process and train to be a lead engineer. "It's an entirely different business than I was working in before," she says as she's about to head off for another eight weeks of training back in Abu Dhabi. "Schlumberger experts will teach me everything about the wireline tools and software,, and what to expect at the job site," she says.
Lawrance is excited to continue with a different type of field work that can also be physically demanding. "Part of the driving force for me is that I just want to show that I can do it. I know that can sound ridiculous. I'm a 130-pound woman, trying to do the same thing as my male counterparts, but I don't want anyone to give me an easier time, that's for sure."
I now know that being an engineer is so much more to me than math and science. It's really not that at all. Being an engineer is much more about being able to survive in unknown environments, learn new things and solve complex problems.
Haley Lawrance
BSc (Eng)'16
How did UCalgary's Schulich School of Engineering prepare you to be an engineer?
I was certain I wanted to be a mechanical engineer, really, I don't think for any educated reason. But I ended up with my second choice, geomatics. For a while, I wanted to transfer to mechanical engineering, but throughout a year of taking geomatics classes, I started to realize I really loved the geomatics faculty — I had met a lot of great people there and I was enjoying the classes. Plus, some of my mentors from summer jobs shared with me the opinion that it didn't necessarily matter if I was mechanical or geomatics, etc. They said, 'You know what? Get the engineering degree, and mold that into what you want to be. What we want to know is that you're an engineer and that you have the ability to learn new things and problem-solve.' So I took their advice.
What were your Schulich School of Engineering highlights?
For my final year's Capstone design project, I worked on a project called Smart Cities for Smart Citizens, using the Internet of Things. Our team worked with Steve Liang [PhD, associate professor of Geomatics Engineering, Schulich School of Engineering] and he was great. We wanted to monitor the study areas at UCalgary, so we built a bunch of monitoring units with sensors. We were able to pull real-time data and we built a website that could show you where there was a study spot available on campus, including its temperature, noise level, and internet speed. We learned a lot, especially working as a team and leveraging everyone's skillsets, so it was very exciting for us when we received first place in the Geomatics faculty for the competition.
Who were your UCalgary mentors?
I really found myself leaning on and supporting other friends and students that were in geomatics during busy and especially challenging times. Everybody in the program helps and supports each other, because there are lots of times in the four or five years when you do need that help. This is how everybody survives — and thrives.
What is your advice for new engineering students?
That first year of university was a huge awakening for me as it probably is for most engineering students. I came from a small town and a small high school and I had had a fairly easy time in high school. Then, all of the sudden, I had moved to a big city and didn't know anyone, and I was in these classes with a ton of students who were very, very smart. I think it's important for everyone to know that most other students feel this way too, and it will be okay.
What is your life beyond engineering?
I love to travel and when I worked internationally, I met a lot of great friends that I was able to travel with. And even now, if I am going to visit their country I would call them up and pay them a visit. So that's really nice. I'm grateful to have built those sorts of relationships.
What does it mean to you to be an engineer? 
Being an engineer makes me feel proud. I find when I see somebody else that has the [engineering] ring on, I'll have an 'Oh hey!' moment. Even though I don't know this person, it's often this instant connection. Being an engineer means that you're really good at taking on new challenges and thinking creatively and applying the base knowledge that you have. It's definitely not being spoon-fed. It means you're comfortable being in a situation where you're thrown in and you might not know everything, but you can figure it out on the go. We got very good at doing that in engineering undergrad.