Recent graduate
Siegfried Baumann, BSc (Eng)'16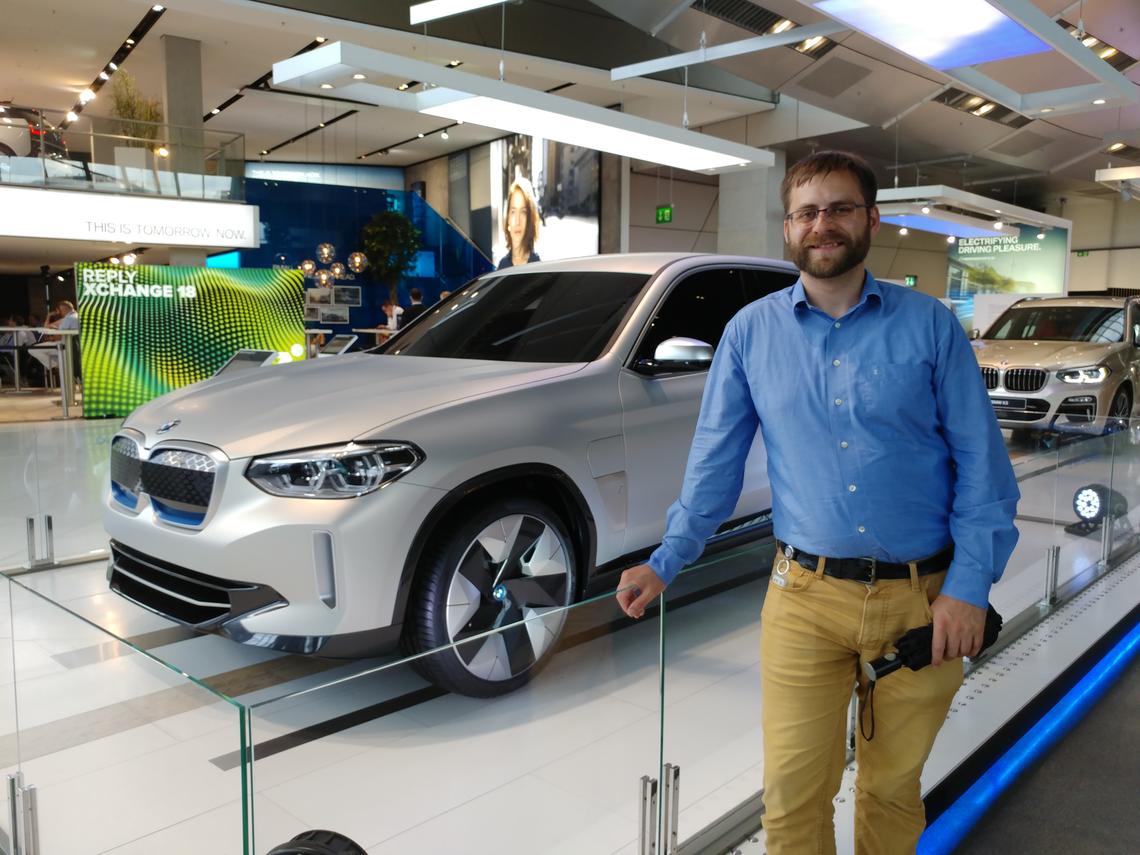 BSc Mechanical Engineering
Schulich School of Engineering,
University of Calgary
Where is he today?
Project Engineer, High Voltage Batteries, BMW Group, Oxford, United Kingdom
Schulich alum Siegfried Baumann charges up his career in electric vehicles
Before he became a student at UCalgary's Schulich School of Engineering, Siegfried Baumann was already a skilled machinist who used lathes and milling machines to manufacture precision parts out of metal. "I always planned I would learn a trade first, just to get that practical experience, and then go to university after," says Baumann. "Mechanical engineering was the logical step since there's so much crossover. First, I was like, 'I'll give it a shot,' and then I ended up really enjoying it."
One of the first things Baumann got involved in at Schulich in the fall of 2011 was Team Zeus, a new electric motorcycle racing club. "It had been founded maybe one month earlier. I was probably the sixth person that joined," he says. Their first project was to convert an old beat-up gas-powered motorcycle to electric for under $1,000 – to prove to themselves they could do it. Baumann did a lot of the mechanical designs and even machined parts. He eventually became the club's president in 2013. "I found the electric – the sustainable part of it – really interesting."
When Baumann first started university, he didn't seriously consider automotive engineering as a career. "For me, that was always the most romanticized; like if you're a little boy who says he wants to be an engineer when he grows up, he's probably imagining that he's going to design cool cars, right? I thought it would be really hard to get into."
But at Team Zeus, Baumann kept hearing over and over again that experience gained through clubs can end up being just as important as studying for your degree itself. When it came time to apply for internships, he decided to start at the top, with "the best crazy idea" he could think of – electric cars at BMW. "It just happened to work out, with a little bit of luck," he says.  
Baumann grew up in Creston B.C. but he was born in Ingolstadt, an hour north of Munich. His German language skills came in handy when he moved to the Munich area for the 13-month internship at BMW Group to work on electric vehicle design. "It's a really new field with lots of young people that are highly motivated. There's huge leaps being made every year – you aren't working your whole life to get a one percent improvement."
During his internship, Baumann got to go to the test track and ride along in rare prototype cars. He also got to tour the wind tunnel – among other cool things. By the time the year was over, he was "even able to completely design one small piece that actually went into production and is in cars right now."
Following his final year at Schulich, Baumann landed a job back in Munich as a mechanical design engineer at ARRK Engineering, which is contracted to BMW. For the last two years, he's been working on the housing around the battery system for the 100-percent electric BMW iX3 SUV.
Then in June, he moved to Oxford to continue his career directly with BMW Group as a project engineer for high voltage batteries. He's now working on APC6: Accelerating the drive to low carbon propulsion – a project that involves the British government, the University of Warwick, BMW and other carmakers and is designed to stimulate innovation and develop the next-generation of electric vehicle battery cells.
"When you're in the industry and you can peek ahead five to 10 years in the future, you kind of know what's coming. And there's definitely huge changes coming up," Baumann says. "I'm definitely excited about my career path."
When Baumann first started university,
he didn't seriously consider automotive engineering as a career. 
For me, that was always the most romanticized; like if you're a little boy who says he wants to be an engineer when he grows up, he's probably imagining that he's going to design cool cars, right? I thought it would be really hard to get into.
Siegfried Baumann
BSc (Eng)'16
How did UCalgary's Schulich School of Engineering prepare you to be an engineer?
When I was looking for a career as an engineer, I guess the three criteria I set for myself were: 1. I wanted something that would actually be positive for the world and where I could help solve some of the major problems that are happening; 2. Something that was a new, exciting and emerging field, so there was lots of room for growth; and 3. The third bonus one was something that would actually be interesting to tell people at parties. Like when people say 'Oh, what do you do?' I can now answer 'electric car development at BMW.' There is no auto industry in Calgary, but Team Zeus [Schulich's electric motorcycle racing club] really piqued my interest and helped me figure out what I wanted to do.
What were your Schulich School of Engineering highlights?
The highlight of the whole degree for me was the six weeks I spent in China. The exchange program took a group of about 20 Schulich engineering students to Shantou University where we joined 20 Chinese students for the Innovation and Entrepreneurship in Renewable Energy program. It's not like typical labs. For one project, we went to an electronics market, made a solar-panel prototype from scratch, and then troubleshooted it until it worked. For another, we came up with a whole project business plan and promotional material for a little aquaponics monitoring device. We basically got to go through the entire product cycle condensed into six weeks. It was a huge learning experience and a lot of fun.
Who were your UCalgary mentors?
Robert Martinuzzi, PhD, professor in the Department of Mechanical and Manufacturing Engineering at the Schulich School of Engineering at the University of Calgary. He's an amazing professor who taught me fluid dynamics. He got very philosophical too: He would sometimes go off on tangents in lecture that would seem like they had nothing to do with the course, but then he would actually bring it around and it would all make sense and blow your mind. He went beyond, 'Here are the numbers, here's the formula,' and into what it means to be an engineer.
What is your advice for new engineering students?
Definitely join a club. Also, I would definitely recommend the China exchange semester with Shantou University. What it boils down to is definitely get practical experience during school, because it's not all about just getting the 4.0. You definitely need more than that.
Anything that adds an unusual quirk or history to your resume is usually good thing. So I say find something that an interviewer can ask you about that can show what makes you tick. I majored in mechanical engineering and minored in English, which isn't common. Yet engineering involves a lot of report writing and that kind of stuff. I thought, 'Maybe this is actually a kill-two-birds-with-one-stone kind of thing.' Writing is something I want to do for fun and it's also something that will help me in my career.
What is your life beyond engineering?
Writing has always been my hobby. I've written a 290-page book, kind of a fantasy epic, à la Game of Thrones, I guess. One of the little unexpected bonuses that occurred to me about moving to Oxford is that it's one of the publishing capitals of the world. Tolkien and C.S. Lewis found inspiration here. I also love cycling; I've gotten way more into it while living in Europe. It's my main way to get around and I really like going on longer cycling trips for a few hundred kilometers on the weekends.
What does it mean to you to be an engineer? 
I really like the Canadian Iron Ring ceremony, where there is this emphasis on the ethical obligations that come with being an engineer, and that you're serving society. These ideals appeal to me. For me, being an engineer is about that duty to actually make the world better.