Three Things You Need to Know About Schulich Studio
Stories from the Studio
Read time: 3 minutes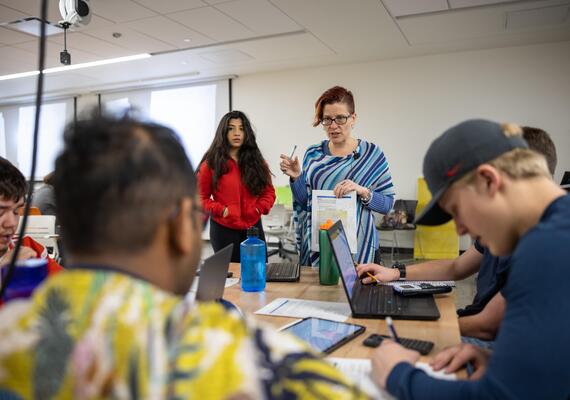 Teaching in the Studio
As an instructor, Schulich Studio is a really, really exciting opportunity to do the parts of teaching that are my absolute favourite. 
I love having one-on-one interactions with students and answering their questions, talking with them, figuring out where they're stuck and helping them through the challenging parts of content. With Schulich Studio, we get to do that throughout the entire class as opposed to just for a moment or two each day.
Right: Dr. Kim Johnston, PhD with first-year students
I have been teaching in Schulich Studio for a couple of years, and I find the entire experience exhilarating. I get to really understand what's going on in students' minds and get to know these bright, intelligent, energized and excited engineering students. I get to hear all about their passions, why they want to be in engineering and let them know what engineers really do. 
Dr. Kim Johnston, PhD
Senior Instructor and Associate Dean – Teaching and Learning
If you're coming to Schulich Studio for the first time this fall, I have a list of three things that I believe you will need to bring with you in order for you to succeed: 
An open mind – this isn't a regular classroom where I'm going to stand at the front of the room and lecture you for an hour. More often than not, you'll be spending time exploring hands-on learning activities and not listening or taking notes. It will be different, but in a great way. 
Your curiosity – don't be afraid to ask questions. This is a great opportunity to connect with your professors as well as teaching assistants and even some senior-year undergraduate students. We're all here to help you learn. 
Your bravery – it's not easy to sit in a room with 100 students and four teaching staff, and be expected to engage with your peers and more-experienced engineers. It takes some honest and authentic bravery to keep showing up and to try learning in a new way. And it takes a little more vulnerability to come into a classroom where you're actually expected to describe your understanding of a concept to a peer as opposed to sitting and listening to someone else explain it. 
I hope that Schulich Studio will help you, our engineering students, come out of the education system with a deep sense of self, a bit of an understanding of how to use your passions to motivate yourself to be a strong engineer, as well as a deep understanding of the engineering fundamentals so you can solve big problems and change the world. 
On behalf of everyone here at the Schulich School of Engineering, welcome to Schulich Studio!