Bachelor of Science in Mechanical Engineering
Mechanical engineers use math, physics and material science principles to design products, processes and systems. As a mechanical engineer, you could use your imagination and creativity to design and build anything from a robot that explores the surface of Mars to a biomedical device like an artificial joint. The revolution in computation technology is changing the face of mechanical engineering. With advancements in computer modelling and 3D printing, ideas can go from concept to prototype faster than ever before.
Manufacturing engineering
This program involves the study of product design and manufacturing facility design, taking into account environmental concerns. It also integrates scheduling, inventory control, development of automated processes (robotics) and implementation of information systems. Students gain a clear understanding of wider business issues such as the management of finance, people, organizations and information.
Mechatronics engineering
This program involves the study of dynamic systems and controlled motions systems. Students learn the skills required to work in a modern laboratory for hands-on design of mechatronics systems.
Petroleum engineering
This program builds on mechanical engineering fundamentals and adds specialized studies in reservoir engineering, turbo machinery and gas dynamics, production engineering, materials science, and offshore and geological aspects of petroleum engineering.
Entrepreneurship and Enterprise Development
This joint program with the Haskayne School of Business helps students build entrepreneurial skills. They learn the principles and practices of developing new ventures and managing small and medium-sized companies.
Management and Society
This program teaches students about the role of management in our institutions and society. Engineering students learn how to practice managerial skills in a business environment.
Optional interdisciplinary specializations
Biomedical Engineering Specialization
This unique, faculty-wide program integrates the study of complex living systems with engineering principles. Students learn how to apply these traditional principles and analysis to human health and medicine.
Energy and Environment Specialization
Students learn about the direct and indirect impact energy-related activities have on the environment and how to understand, avoid, reduce and solve potential problems.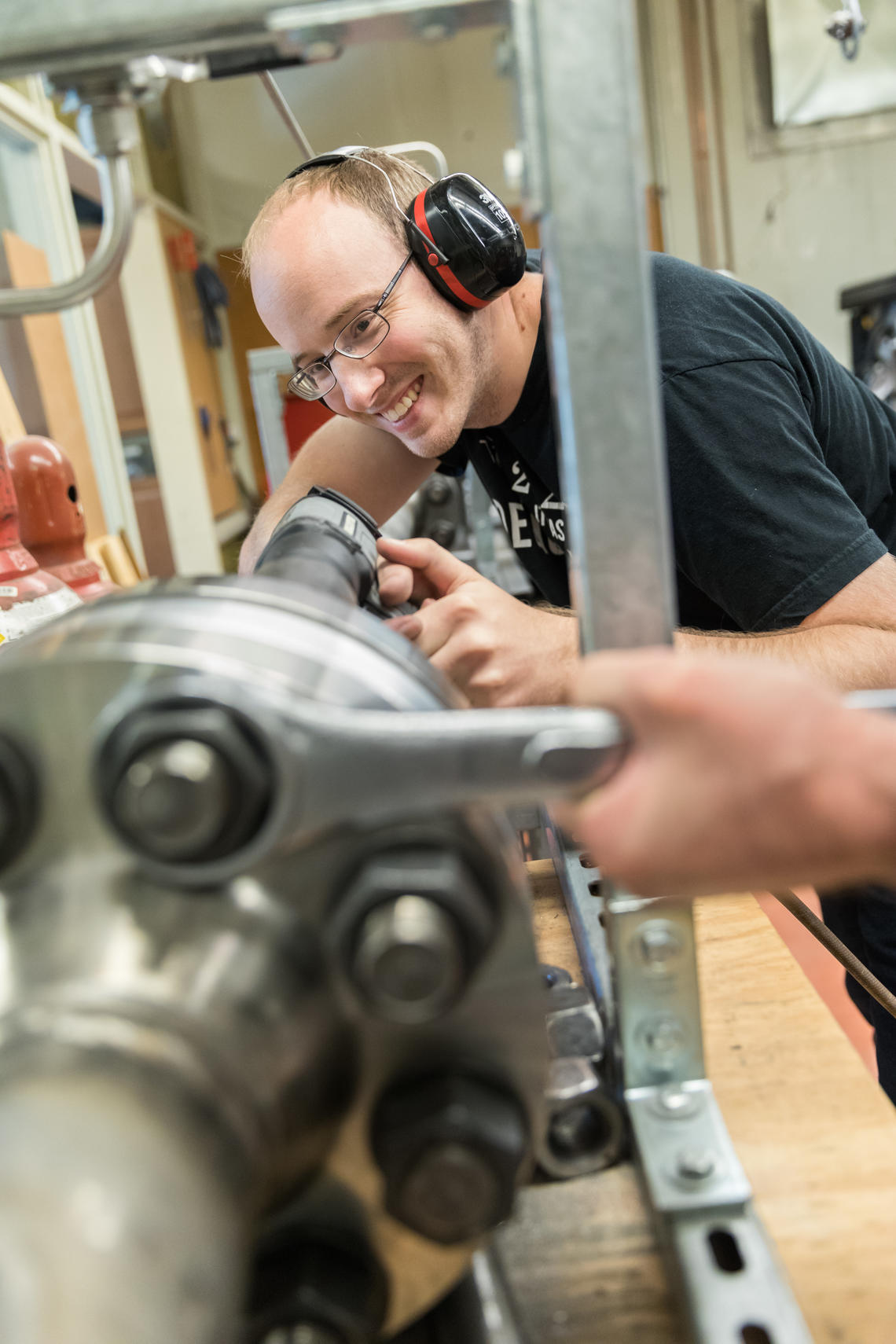 There are many diverse career paths for mechanical engineers. Mechanical engineers research, design and evaluate machines, devices, equipment, systems and processes. They plan and oversee their development, installation, operation and maintenance. Mechanical engineers have great job mobility because they study broad areas of engineering and their skills can transfer easily from one industry to another. Graduates can work in virtually any industry from aerospace to renewable energy.
Graduates can focus on:
Natural resources (forestry, agriculture, oil and gas, mining)

Energy conversion (thermal and hydroelectric power stations, solar, wind and biofuels)

Processing (petrochemical refining, food and beverage production)

Manufacturing (vehicles, appliances, furnishings, telecommunications equipment)

Construction (mechanical systems such as elevators or air conditioning, heating and ventilation systems)

Transportation (rail, road, air, marine, space vehicles and systems)

Utility systems (water, natural gas, electricity)

Consumer electronics (technology and automation)
A degree in engineering can also be used as a stepping stone to graduate studies or a professional degree such as law, medicine, veterinary medicine or architecture.
 
An academic path that works
Our students follow a tried and true educational path. This includes a common first year, an internship opportunity after year three and an exciting design project to cap things off.

 
Common 1st year
Undergraduate students spend their first year learning about the broad world of engineering. From there, they focus their studies on a specific engineering discipline for the remainder of their degree.
Choose a major
In their second year of studies, undergraduate students begin taking courses in their major. These programs include: electrical, civil, software, chemical, mechanical, geomatics, and oil and gas engineering.
Internship
Between their third and fourth year, students can apply to do an internship. These paid work experiences range from 12 to 16 months. For students interested in international internships, one in 15 intern abroad.
Design project
During their fourth year of study, students undertake a team design project. Many work with an industry partner. Together, they develop well-researched and tested solutions to real-world challenges.
Earn an engineering degree and a business degree
Are you torn between choosing an engineering or business education? At the University of Calgary you can simultaneously complete a Bachelor of Science in Engineering and a Bachelor of Commerce in five years. This unique program is offered in partnership with the Haskayne School of Business.
Undergraduate admission enquiries
Engineering Student Centre
Mailing address:
ENC 205, 2500 University Drive NW, Calgary, AB T2N 1N4
Street address:
622 Collegiate Place NW, Calgary, AB T2N 4V8
Campus location:
Canadian Natural Resources Limited Engineering Complex (EN)
403.220.5732 
engginfo@ucalgary.ca