Bachelor of Science in Geomatics Engineering
Geomatics engineering is a very fast-growing information technology discipline, which employs location and navigation systems, intelligent and autonomous systems, mobile mapping, geospatial information systems, integration of detection-and-localization sensors, smart infrastructure, artificial intelligence for geospatial solutions, remote sensing of the natural and built environments by satellite and unmanned aerial systems, virtual reality, geodesy and surveying - to name a few.
Geomatics engineering leads to exciting and lasting careers in the geospatial industry, aerospace and automobile autonomy, biomedical engineering, natural resources, land surveying and many other areas. Geomatics engineering students acquire skills in collecting, visualizing, modelling and analyzing geospatial data, engineering design, digital imaging and computer modelling to solve a variety of problems that have a common attribute - spatial location. Geomatics engineering students experience extensive hands-on learning of the newest geomatics technologies.
This is the only geomatics engineering degree in Western Canada and is recognized by the Canadian Board of Examiners for Professional Surveyors and the Canadian Engineering Accreditation Board.
Aerospace Engineering (Geomatics Engineering stream)
This minor enables students to design and construct new aircraft and spacecraft systems, including crewless aerial vehicles, flight control systems, propulsion technologies, satellite technologies, navigation and remote sensing systems.
Biomedical Engineering
This unique, faculty-wide program integrates the study of complex living systems with engineering principles. Students learn how to apply these traditional principles to human and animal health.
Cadastral Surveying
The concentration in cadastral surveying is for students who have in interest in pursuing a career as a professional land surveyor. Students in this concentration take technical electives in geodetic and engineering surveys, survey law, land use planning, hydrographic surveying and business. They learn the skills required for determining property boundaries, and the measurement and analysis of land-related information.
Digital Engineering
This minor allows you to develop some software engineering and coding skills while pursuing a non-software engineering major. Students learn about artificial intelligence, machine learning, the Internet of Things and more.
Engineering, Energy and Environment
Students learn about the direct and indirect impact energy-related activities have on the environment and how to understand, avoid, reduce and solve potential problems.
Polytechnic Transfer Pathway
Students with an approved diploma in geomatics engineering technology can complete their Bachelor of Science in Geomatics Engineering in three years.
What's the 4+1 program?
If you're entering the final year of your undergrad, you can complete an accelerated MEng in geomatics engineering in one additional year of school. 
Contact the MEng Program Office
Take three extra courses during your undergrad
Apply these credits towards your master's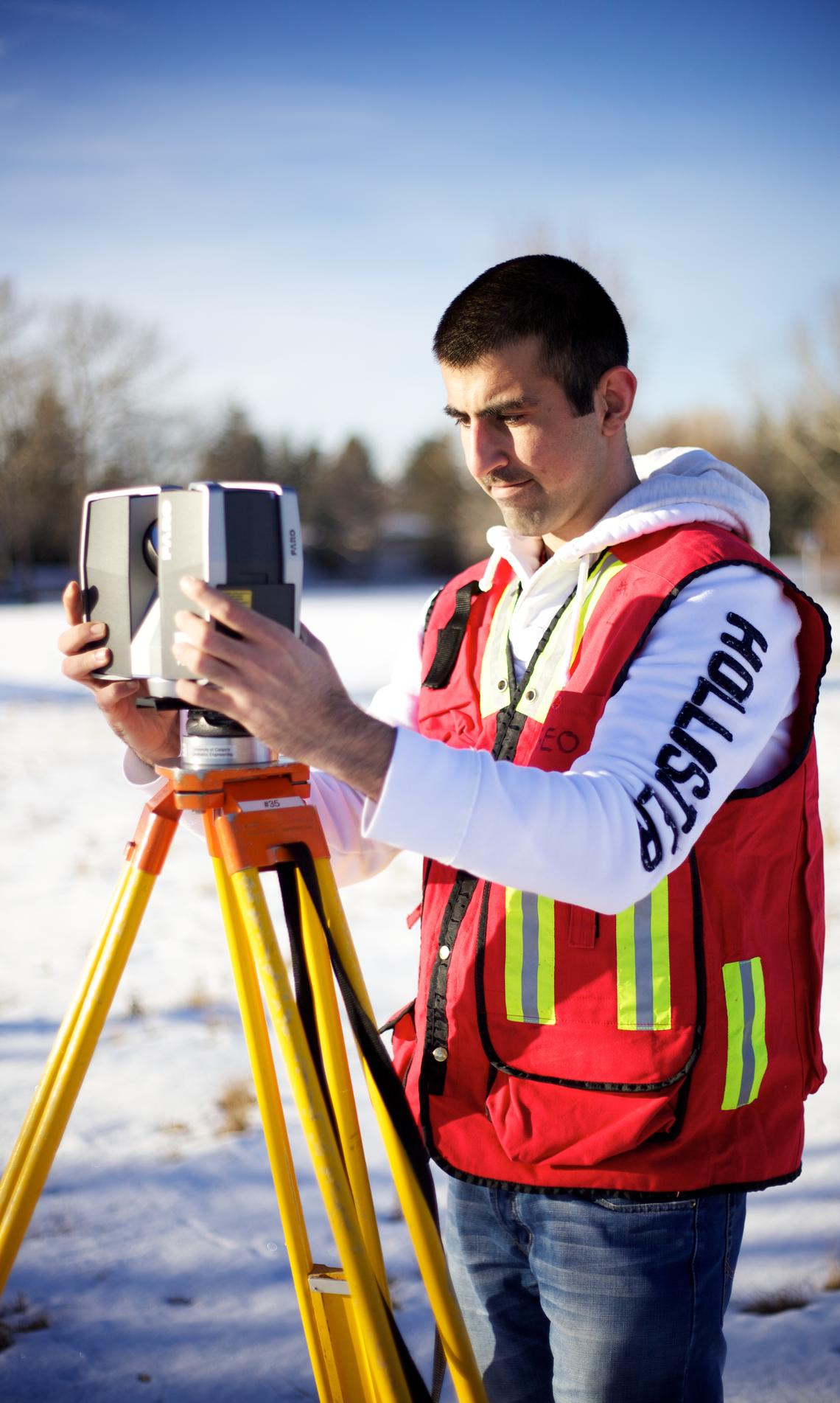 Geomatics engineers are in high demand, both in Canada and globally. They can work in the private sector in small-to-medium-sized enterprises or in large, multinational corporations such as Google, Amazon, Microsoft, Apple, Trimble, Shell, Encana, Stantec, AltaLink, ESRI Canada, Intermap Technologies and NASA, among others. In the public sector, geomatics engineers work in government agencies, city and municipality departments, colleges and universities.
Graduates can focus on:
Geospatial data science and software development
Navigation systems engineering
Unmanned and remote-sensing aerial systems
Professional land surveying
Sustainable agriculture
Sustainable community planning
Geodetic engineering
Photogrammetric engineering
Transportation infrastructure
Structural modelling and monitoring
Hydrography
Asset management
Pipeline integration and pipeline integrity management
A degree in engineering can also lead to graduate studies or a professional degree in law, medicine, veterinary medicine or architecture.
 
An academic path that works
Our students follow a tried and true educational path. This includes a common first year, an internship opportunity after year three and an exciting design project to cap things off.

 
Common 1st year
Undergraduate students spend their first year learning about the broad world of engineering. From there, they focus their studies on a specific engineering discipline for the remainder of their degree.
Choose a major
In their second year of studies, undergraduate students begin taking courses in their major. These programs include: electrical, civil, software, chemical, mechanical, geomatics, and oil and gas engineering.
Internship
Between their third and fourth year, students can apply to do an internship. These paid work experiences range from 12 to 16 months. For students interested in international internships, one in 15 intern abroad.
Design project
During their fourth year of study, students undertake a team design project. Many work with an industry partner. Together, they develop well-researched and tested solutions to real-world challenges.
Earn an engineering degree and a business degree
Are you torn between choosing an engineering or business education? At the University of Calgary you can simultaneously complete a Bachelor of Science in Engineering and a Bachelor of Commerce in five years. This unique program is offered in partnership with the Haskayne School of Business.
Undergraduate admission enquiries
Engineering Student Centre
Mailing address:
ENC 205, 2500 University Drive NW, Calgary, AB T2N 1N4
Street address:
622 Collegiate Place NW, Calgary, AB T2N 4V8
Campus location:
Canadian Natural Resources Limited Engineering Complex (EN)
403.220.5732 
engginfo@ucalgary.ca